Top 10 places to visit and paddle (canoe, kayak, SUP) in Canada, North America and Mexico
America's three times national surf-ski champion and sprint kayaker Renae Angelique, and her buddy high performance sprint kayaker Hayley Plante, like to train on this sunny stretch of the Pacific, speeding over the calm waves between the two resorts on still days, then chilling on Laguna Beach, watching kaleidoscope sunsets erupt over the water. 
Any serious kayaker must surely yearn to visit the Arctic region, where the sport originated. Greenland is one astonishingly beautiful option, with calving glaciers, ice fjords, leaping humpback whales, the Aurora Borealis and fascinating Inuit villages to paddle between. Adventurous tourers might explore the blue icebergs of South Greenland, or intermediates can head out on SUPs or kayaks from the small-but-funky capital, Nuuk.
Experiencing Maui, Hawaii's second biggest island, from the water is a total dream. All the typical paradise island stuff is present: white sands, water the colour of mouthwash, gentle surf, but for extra magic paddlers might find themselves riding a wave with a sea turtle, or watching the sunset as humpback whales surface and the sky turns pink behind the Haleakala volcanic crater. A unique and mesmerising location even beginners and kids can enjoy.
7- U.S. National Whitewater Center, Charlotte, North Carolina, USA

(41 in the global 100 list)
The world's largest manmade whitewater river has class II-IV rapids, standing waves holes and a big drop, providing the best sort of carnage for experienced paddlers wanting to perfect their game. Self-proclaimed paddle-board enthusiast Emily Critcher, who tipped about this place, can't help but let out "shouts of pure wave-train joy" when she practises there. Novices can enjoy flat water paddling here too on the park's Catawba River and Long Creek. 
Seattle's freshwater lake provides city-folk with all manner of water-based recreation, under views of the city skyline and the iconic Space Needle building. Whether they're training for speed and distance or making a gentle sightseeing tour, paddlers will find themselves sharing the water with dinghies, giant yachts, and seals. Floatplanes take off and land, and at the locks, boats transition to the saltwater Puget Sound. 
5- Indian Harbour Beach and Satellite Beach, Florida, USA

(26 in the global 100 list)
How many metropolises can say endangered North Atlantic right whales calve off their shoreline? That green sea turtles nest on the city's beaches? And West Indian manatees swim its canals? The incredible wildlife near these two small Atlantic coast cities, on a barrier island famed for its superb beaches, make this an extraordinary yet easy and accessible paddle destination. Night paddles across water glowing with bioluminescence brings the thrill factor. 
So vast it looks more like a sea, Ontario is one of the five Great Lakes of North America, forming a border between Canada and the state of New York, and at 193 miles long there's tons to explore.  Beginners on the Canadian side might weave between the islands off Toronto's harbour front, home to beaches, cafes and bird sanctuaries. 
Narrow rapids and canyons, portages and a 20-foot drop make this a seriously thrilling river run— no wonder our judge Jessica Fox gave it 10/10 for excitement. The river has only recently been tackled by paddlers; it's tricky to get in and out of, not to mention down, making it one for the experts. The guys from Kyiv Kayaks described it as a "very cool place" with "picturesque gorges and a lot of fun".. though they also mentioned they did find a broken oar at the end of their session there! 
More than 1,500 lakes make this vast national park of almost 3,000 square miles a paradise for adventurous, nature-lovers and families. Crowded with maple and poplars and home to beavers and moose, it's hugely popular for backcountry canoe camping trips, when intrepid paddlers might spend days portaging between lakes and camping out on different islands, swimming in the warm waters and cooking over fire at the end of the day.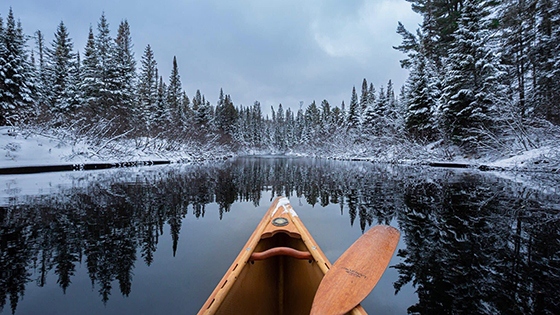 1- Emerald Lake, Yoho National Park, British Colombia, Canada

(2 in the global 100 list)
The colour of the water is everything at this astonishing waterbody in the Canadian Rockies. Surrounded by the glaciated peaks of the President Range, Emerald Lake is tinted a vivid peacock blue-green, thanks to the silty glacial meltwater that refills it each summer. 
It's the largest of 61 lakes in the Yoho National Park, famed for its vertical rock faces, waterfalls, rare pine tree species and as a habitat for grizzly bears and mountain goats. 
Around its fringes wild orchids grow, moose graze on surrounding meadows, and there are views of the important 508-million year-old Burgess Shale fossil beds. It's a dreamy paddle spot for nature lovers and photographers, with calm, cool waters even beginners can try a session on.
Sponsored by
climate-positive apparel brand:

Check out SOMWR's channels: 
Website | Instagram | Facebook | Twitter