Top 10 places to visit and paddle (canoe, kayak, SUP) in Central and South America and Caribbean
Like a moving ice mountain, the awesome Perito Moreno Glacier is a gobsmacking 250-square kilometres of frozen water, 74-metres high, which can shift a metre or two a day. That's some ice lolly. While others view it from afar, kayak excursions allow travellers— even those who've never paddled before—to get up close, something relished by our contributor Narelle Henderson, who reported that: "Paddling in front of the Perrito Moreno glacier was an amazing experience. A 70m high wall of ice broke off in huge chunks and crashed into the ice cold water." Enough said. 
Deep, narrow, gnarly and frankly terrifying to anyone but the top experts, the Rio Claro pours down from the Planchon Volcano through some of the tightest paddlable rock corridors on earth. Overhanging rock walls, chutes and drops treat the paddler like a pinball. Not surprisingly this one was highly rated by the judges for its excitement factor. 
A wonderland of manmade emerald lakes, tropical islands and the vertigo-inducing, Rock of Guatape, a towering sheer cliff-face, make this an unbelievably photogenic destination for sightseeing paddlers. The colourful waterside town of Guatapé, two hours from Medellin, comes alive with a festival vibe at weekends, but the serene waters offer a relaxed escape to paddlers of all levels. 
Icebergs, majestic snow-capped mountains, pristine waters and icy fjords make sea kayaking from Ushuaia, the city at the southern tip of Patagonia, a gobsmacking experience. While expert paddlers can create their own adventures here, anyone can try taster tours to experience this awesome environment at the end of the earth.  
The walled Caribbean city of Cartagena is not only a vibrant jewel packed with culture and history, but also an enchanting starting point for trips for even beginner paddlers. That might be a peaceful sunset voyage over turquoise water before cocktail hour, or a more adventurous excursion to silver-sand beaches and the tropical island of Tierra Bomba. 
Paddling out between colourful wooden boats from the palm-fringed beaches at the edge of this south-east Brazilian city is a visual extravaganza. Views of the impressive 70-metre high Third Bridge spanning the bay, with the lush forested hills behind are made all the more spectacular by going at sunset. A gorgeous easy spot for paddlers of all abilities. 
The translation of its name says it all: "Beautiful Island". Serene water laps palm-fringed beaches backed by rainforest and volcanic peaks ribboned with waterfalls at this protected biosphere reserve off Brazil's south-east coast. Novices can enjoy easy paddling here, while those with more experience might explore the island's wilder east side, and float over shipwrecks to the south. 
Paddling through deliciously warm water, relaxing on white sand beaches and watching ludicrous sunsets explode across the sky make a trip to the Caribbean archipelago of Guadeloupe, part of the French Antilles, a pretty tempting prospect. The two main islands are connected by a bridge, and between their north shores and the Caribbean is a shallow lagoon, the Grand-Cul-de-Sac-Marin, a protected biosphere reserve with mangroves and coral islets, manatees, tropical fish and rare birds, that's a wonderful destination for nature-loving paddlers to explore.  
Called "Big River" in the local Mapuche dialect, the Futaleufú, in the north of Patagonia, is as wild and dramatic a river as you'll find anywhere. Huge white waves, Class V rapids with intimidating names such as Terminator, a section called the "Wild Mile", chunky boulders and a forested Alpine setting are the ingredients for an adrenalin-fuelled adventure for experienced paddlers. But there are some chill sections too, where paddlers can relax and admire the dazzling blue water, including on the calmer tributary, the Rio Azul.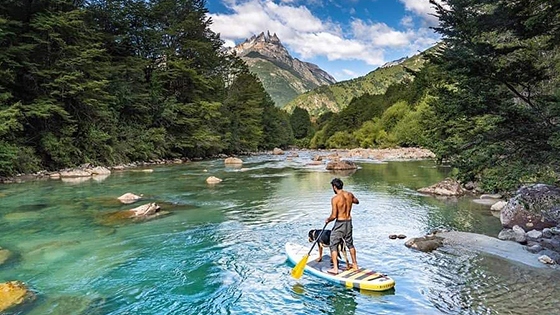 Between Argentina and Brazil, the semi-circular Iguacu Falls are some of the widest, mightiest and most impressive waterfalls in the world, with almost 300 separate falls and cataracts. No one is suggesting paddlers go over the top of them, but the contributor of this tip, Luciano Menghello, of Aloha Spirit Media, claims to be the first to make an SUP expedition to near the foot of the falls, a place, he says, is "known worldwide for the beauty and strength of the waters". 
As the Iguacu river pours through subtropical rainforest, home to howler monkeys, tapirs and giant ant eaters, lower sections feature Grade 3 rapids to test proficient paddlers.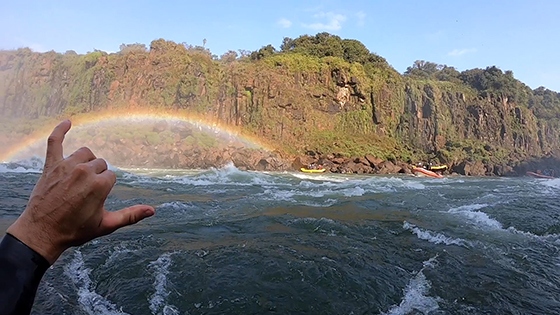 Sponsored by
climate-positive apparel brand:

Check out SOMWR's channels: 
Website | Instagram | Facebook | Twitter