For most teenagers, the pressure of having to earn your country qualification for the Olympic Games may seem quite daunting, but Evy Leibfarth, Marta Bertoncelli, Andrea Herzog and Monica Doria Vilarrubla took it all in their stride during a dramatic weekend at the ICF canoe slalom world championships in La Seu, Spain.
Official quota allocation letters have been sent this week to the countries which successfully earned Olympic places at last weekend's world titles.
On a weekend of outstanding performances, 19-year-old German Andrea Herzog became world C1 women's champion, 15-year-old Leibfarth continued her incredible debut slalom season by finishing fourth, 19-year-old Doria Vilarrubla finished eighth, and 18-year-old Bertoncelli was 15th.
The results earned their countries, Germany, USA, Andorra and Italy respectively, quotas for next year's Games. Leibfarth and Doria Vilarrubla also finished high enough in the women's K1 to earn quotas, but will need to relinquish one of those places.
An athlete can only earn a quota for one event, meaning Leibfarth and Doria Vilarrubla will join Australia's Jessica Fox, New Zealand's Luuka Jones and Brazil's Ana Satila in having to relinquish one of their tickets.
However all five athletes will be able to compete in both the C1 and K1 in Tokyo.
"I've been dreaming about competing at this level for a really long time, and getting the Olympic quota spot was really cool," Leibfarth said.
"That's been my really big goal for this season, I've been working towards it. And then getting my head together for this race, and then putting it all together was really good for me.
"I feel like I just dived into everything this year, and I've just been loving the experience. I think a lot of people back home are discovering the sport for the first time, and that's really exciting for me."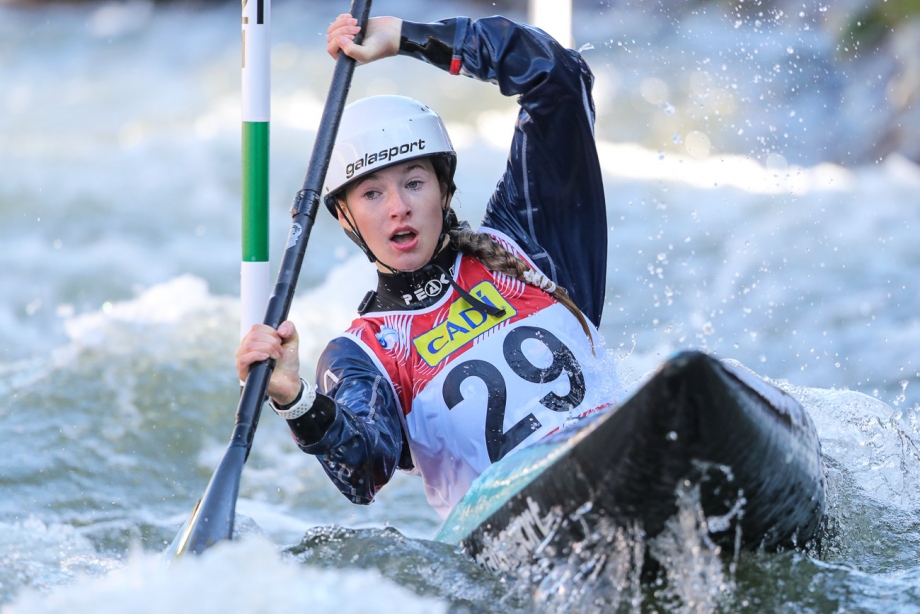 Herzog had a nerve-wracking world championships, having to see off a challenge from teammates Elena Apel and Jasmin Schornberg for Germany's sole Olympic quota. She responded in the best possible fashion, securing her first ever world title.
"I never thought I could be a world champion. i thought I could get the Olympic spot, and i thought I could get a medal, but I never thought it could be the gold medal," Herzog said.
"It's so great, it's been such a big dream for me. It's been a big fight, but at the end I was the lucky one, and I'm still the lucky one, and hopefully it will be a great Olympics."
Most of the world's top canoe slalom countries earned their Tokyo tickets on the weekend, with some notable exceptions. A handful of countries which rarely make the canoe slalom Olympic cut are also set to appear in Japan, including Croatia, Portugal and Ireland.
21-year-old Robert Hendrick from Kildare, Ireland, missed making his first C1 men's final by just 0.39 of a second. It would have been an incredible performance, considering he was competing in his first ever semi-final.
But his achievement was good enough to earn Ireland a quota for Tokyo. Now Hendrick, like many of the other athletes who earned their countries quotas on the weekend, has to win Ireland's selection trials.
"It's great for the sport, we have really over the past few years built up the depth in our paddling in Ireland," Hendrick said.
"It's becoming a real challenge just to make the Irish team now. Irish qualifying is going to be about just putting down the best paddling I can do, and whether that means I get to be on the start line in Tokyo next year, who knows.
"But that's all I can worry about. What the other guys do is outside of my control, so I'm just going to focus on my performance, and whatever will be, will be."
One athlete who already knows she is going to Tokyo next year is Italian teenager Marta Bertoncelli, who earned a quota for the debut of women's C1 at the Olympics.
"It's unbelievable, we went from literally zero to qualifying a spot for the Olympics, I can not believe it," she said.
"We were looking to the future, and I had this big dream. And then I came here and thought I will try my best and we will see, but it was a dream. When a dream comes true, it is unbelievable."
The La Seu results have set up some intriguing battles at next year's European canoe slalom championships, where one final Olympic berth will be up for grabs. Germany and Italy, both shock omissions from the top 11 on the weekend, will fight it out for the men's C1.
France and Poland may need to fight it out in the women's C1, depending which quotas are returned by the five countries which have doubled up.
The full list of countries who earned Olympic quota places in La Seu can be found here.