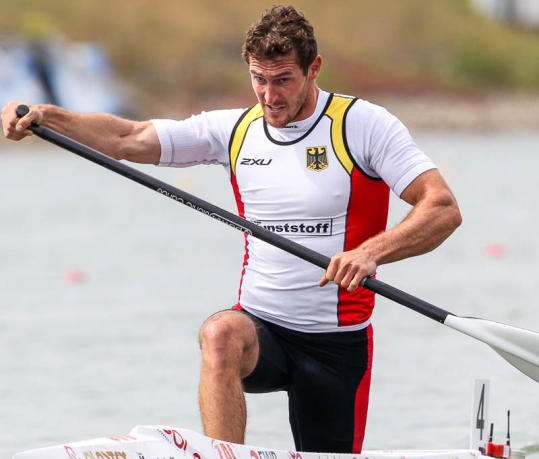 Sebastian Brendel (GER)
Germany
Canoe Sprint
Date of birth
12 March 1988
Marital status
* unknown *
Family
Partner Romy, daughter Hanna [2010], son Edwin [2013]
Occupation
Athlete, Police Officer
Languages
English, German
Biography
General Interest
Hobbies
Spending time with family. (lsb-brandenburg.de, 01 Apr 2015)
Memorable sporting achievement
Winning gold in the C1 1000m at the 2012 Olympic Games in London. (lsb-brandenburg.de, 01 Apr 2015)
Hero / Idol
US swimmer Michael Phelps. (lsb-brandenburg.de, 01 Apr 2015)
Awards and honours
He received the 2015 Kienbaum Award from the German Olympic Committee [DOSB] in recognition of his diligence during training and for being a positive example to young people. (dosb.de, 05 Jun 2015)

He was named the 2015 Champion of the Year in Germany. (Facebook page, 29 May 2016; sport1.de, 02 Oct 2015)

He was named Male Athlete of the Year in Brandenburg, Germany, in 2012, 2014 and 2015. (kanu.de, 14 Dec 2015; rbb-online.de, 13 Dec 2014)

He received the Silbernen Lorbeerblatt [Silver Laurel Leaf] in 2012. It is the highest state sports award in Germany. (bundespraesident.de, 07 Nov 2012)
Sport Specific Information
When and where did you begin this sport?
He took up the sport at age eight in Schwedt, Germany. After three years he moved to Potsdam in order to attend a school for talented athletes.
Why this sport?
He tried football, karate and athletics before he decided to take up canoe sprint.
Club / Team
KC Potsdam: Germany
Name of coach
Ralph Welke [club, national], GER; Reiner Kiessler [national], GER
Results
Competition
Event
Location
Date
Season
Gender
Result
Rank
Mentions
World Cup
Individual Canadian
3 June 2012
2012
Men
1

Best result

World Cup
Individual Canadian
22 August 2010
2010
Men
2

Best result

World Cup
Individual Canadian
1 September 2013
2013
Men
1

Best result

World Cup
Individual Canadian
21 August 2011
2011
Men
1

Best result

World Cup
Individual Canadian
3 June 2007
2007
Men
12
World Cup
Individual Canadian
29 June 2008
2008
Men
7
World Cup
Individual Canadian
7 June 2009
2009
Men
6
Olympic Games
C1 1000m
Brazil, Rio de Janeiro
16 August 2016
2016
Men
3:56.926
1

Latest result

Best result

Olympic Games
C2 1000m
Brazil, Rio de Janeiro
20 August 2016
2016
Men
3:43.912
1

Latest result

Best result

Olympic Games
C1 200m
England, London
11 August 2012
2012
Men
47.295
16
Olympic Games
C1 1000m
England, London
8 August 2012
2012
Men
3:47.176
1

Best result

World Championships
C1 500m
Italy, Milan
23 August 2015
2015
Men
1:57.001
8
World Championships
C1 1000m
Italy, Milan
22 August 2015
2015
Men
3:48.956
1

Best result

World Championships
Canoe Single (C1) 5000m
Italy, Milan
23 August 2015
2015
Men
23:03.320
1

Best result

World Championships
C1 500m
Russia, Moscow
10 August 2014
2014
Men
1:49.433
2

Best result

World Championships
C1 1000m
Russia, Moscow
9 August 2014
2014
Men
3:44.578
1

Best result

World Championships
C1 5000m
Russia, Moscow
9 August 2014
2014
Men
23:09.973
1

Best result

World Championships
C1 4 x 200m Relay
Russia, Moscow
10 August 2014
2014
Men
2:50.338
4

Best result

World Championships
C1 1000m
Germany, Duisburg
31 August 2013
2013
Men
4:10.365
2

Best result

World Championships
C1 5000m
Germany, Duisburg
1 September 2013
2013
Men
22:17.864
1

Best result

World Championships
C1 4 x 200m Relay
Germany, Duisburg
1 September 2013
2013
Men
2:50.205
2

Best result

World Championships
C1 200m
Hungary, Szeged
21 August 2011
2011
Men
41.452
10
World Championships
C1 1000m
Hungary, Szeged
19 August 2011
2011
Men
DNF
41
World Championships
C1 4 x 200m Relay
Hungary, Szeged
21 August 2011
2011
Men
2:48.473
3

Best result

World Championships
C1 500m
Poland, Poznan
22 August 2010
2010
Men
1:52.937
8
World Championships
C1 1000m
Poland, Poznan
21 August 2010
2010
Men
3:53.837
3

Best result

World Championships
C1 4 x 200m Relay
Poland, Poznan
22 August 2010
2010
Men
2:52.983
6
World Championships
C1 200m
Canada, Dartmouth
16 August 2009
2009
Men
46.554
17
World Championships
C1 500m
Canada, Dartmouth
16 August 2009
2009
Men
1:51.320
4

Best result

World Championships
C1 1000m
Canada, Dartmouth
15 August 2009
2009
Men
4:00.215
3

Best result

World Championships
C1 4 x 200m Relay
Canada, Dartmouth
16 August 2009
2009
Men
2:52.485
4

Best result

World Championships
C4 500m
Germany, Duisburg
12 August 2007
2007
Men
1:31.497
2

Best result

European Championships
C1 1000m
Russia, Moscow
25 June 2016
2016
Men
3:51.248
1

Latest result

Best result

European Championships
C1 500m
Czech Republic, Racice
3 May 2015
2015
Men
1:55.020
7
European Championships
C1 1000m
Czech Republic, Racice
2 May 2015
2015
Men
3:55.296
1

Best result

European Championships
Canoe Single (C1) 5000m
Czech Republic, Racice
3 May 2015
2015
Men
22:58.100
1

Best result

European Championships
C1 500m
Germany, Brandenburg
13 July 2014
2014
Men
1:50.591
2
European Championships
C1 1000m
Germany, Brandenburg
12 July 2014
2014
Men
3:54.822
1

Best result

European Championships
Canoe Single (C1) 5000m
Germany, Brandenburg
13 July 2014
2014
Men
21:48.820
1

Best result

European Championships
C1 1000m
Portugal, Montemor-o-Velho
15 June 2013
2013
Men
3:56.891
6
European Championships
Canoe Single (C1) 5000m
Portugal, Montemor-o-Velho
16 June 2013
2013
Men
22:57.583
1

Best result

European Championships
C1 200m
Croatia, Zagreb
24 June 2012
2012
Men
DNS
20
European Championships
C1 1000m
Croatia, Zagreb
23 June 2012
2012
Men
3:50.726
1

Best result

European Championships
C1 200m
Serbia, Belgrade
19 June 2011
2011
Men
40.749
5
European Championships
C1 1000m
Serbia, Belgrade
18 June 2011
2011
Men
3:47.155
1

Best result

European Championships
Canoe Single (C1) 5000m
Serbia, Belgrade
19 June 2011
2011
Men
24:07.383
1

Best result

European Championships
C1 1000m
Spain, Trasona
3 July 2010
2010
Men
3:59.106
1

Best result

European Championships
C1 200m
Germany, Brandenburg
26 June 2009
2009
Men
41.318
5
European Championships
C1 500m
Germany, Brandenburg
28 June 2009
2009
Men
1:50.611
3
European Championships
C1 1000m
Germany, Brandenburg
27 June 2009
2009
Men
3:52.854
2
European Championships
C1 4 x 200m Relay
Germany, Brandenburg
26 June 2009
2009
Men
2:51.096
2
European Championships
C1 500m
Italy, Milan
18 May 2008
2008
Men
1:56.435
2
European Championships
C1 1000m
Italy, Milan
17 May 2008
2008
Men
4:00.989
3
European Championships
C4 200m
Spain, Pontevedra
1 July 2007
2007
Men
37.675
6
European Championships
C4 500m
Spain, Pontevedra
1 July 2007
2007
Men
1:39.359
3
World Cup
Individual Canadian
5 June 2016
2016
Men
1

Latest result

Best result

World Cup
Individual Canadian
23 August 2015
2015
Men
1

Best result

World Cup
Individual Canadian
10 August 2014
2014
Men
1

Best result