Current programs
Canoe Marathon
The programme will be held in connection with the Marathon World Championships in Bascov-Budeasa, Romania from 30 September to 3 October, 2021 and will include a training camp for approximately 7 days before the competition between 23 and 29 September
Applicants for the camp must commit to attending the full period of the camp and cannot use the benefits provided to just race at the World Championships at a reduced cost.
The project provides priority for the men and women kayakers and canoe paddlers from countries, which are new to canoe marathon or have not taken part in an ICF Canoe Marathon World Championships before.
The age limit of the athletes is 15 to 23 of years. (Birth years 1998-2006)
Application must be sent with information on the proposed athletes to Tim Cornish: cornishtj@gmail.com  before 20 August 2021.
Download the application form (xls)
Canoe Sprint
• 2021 ICF JUNIOR & U23 CANOE SPRINT WORLD CHAMPIONSHIPS in Montemor-o-Velho, Portugal.
o Deadline to send the application: 29/06/2021

• 2021 ICF CANOE SPRINT WORLD CHAMPIONSHIPS in Copenhagen, Denmark.
o Deadline to send the application: 09/07/2021

Due to a limited number of places for these training camps, the application allows for two athletes per country, preferably one male and one female athlete. This number
could increase after the release of the final list of registrations.

Please, send to sebastian.cuattrin@canoeicf.com the athlete's application with their age, gender, category, competition and place that you want to request a spot in the TIP program.

To ensure the athletes' participation, they need be registered in the competition by your NF in the ICF SDP system.

The TIP camp will be in accordance with the local health and sanitary rules and respecting the ICF COVID protocol.
Paracanoe
ICF-PARACANOE will be hosting a Talent Identification Programme (TIP) Camp in Copenhagen for the upcoming World Championships ( 10th to 19th September). 

All national federations (NFs) who are developing women paracanoe athletes are encouraged to apply. Preference will be given to NF's who have had low female participation in paracanoe events to date.

Funding from the ICF is limited. All on-site competition costs will be covered by ICF. Travel costs and visa approvals will be the responsibility of each NF.  
 
We encourage NF's to contact their National Paralympic Committee for assistance to help this Paris 2024 development activity. It is important to note that the first Qualifier for the Paris 2024 Paralympic Games will be only 21 months after the Copenhagen World Championships.

Female coaches from applying nations are also encouraged to participate under the same conditions.
 
Please send a letter of interest to Jean-Christophe Gonneaud jc.gonneaud@canoeicf.com by 16 July 2021
 
Notices of ICF support will be sent to successful applicants by 20 July 2021.
 
Letters of interest should include the following:
NF name
NF contact
NF Paracanoe contact (if different)
Athlete Name
Athlete  Age
Athlete passport #
Athlete impairment (brief description – pictures encouraged)

Anticipated athlete category, ie. KL1, KL2, KL3,VL1, VL2, VL3

Athlete training activity

How long has she been training in paracanoe
Kayak or Va'a or both
Training times per week
A short video is encouraged (10 – 15 seconds)
 
NOTE: For coach applications, please indicate the function and responsibility level, training or coaching diploma, coaching experience. Preference will be given to coaches coming with athletes having the highest impairment level.
Regular programs
•TIP Continental / World (since 2010)
•Excellence Athletes (since 2016)
•Return the favour programme (since 2014) CSL
•Expand Extend Women Canoeing (since 2014) CSL
•YOG (since 2010)
•3 Continents Tailor Made (since 2016) CSL
Internationally accredited coaches
View the internationally accredited coaches in your area (xlsx). Details include the level of qualification and languages spoken. To contact a coach, to update your own details or for any errors please contact Sebastian Cuattrin.
Coaches courses
2021 level 3 canoe sprint coaches course. Online: October to December - information
Application form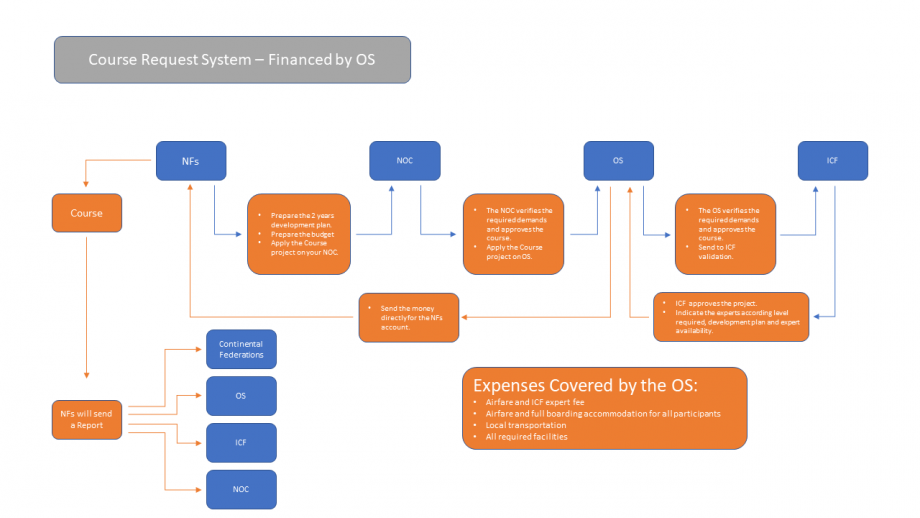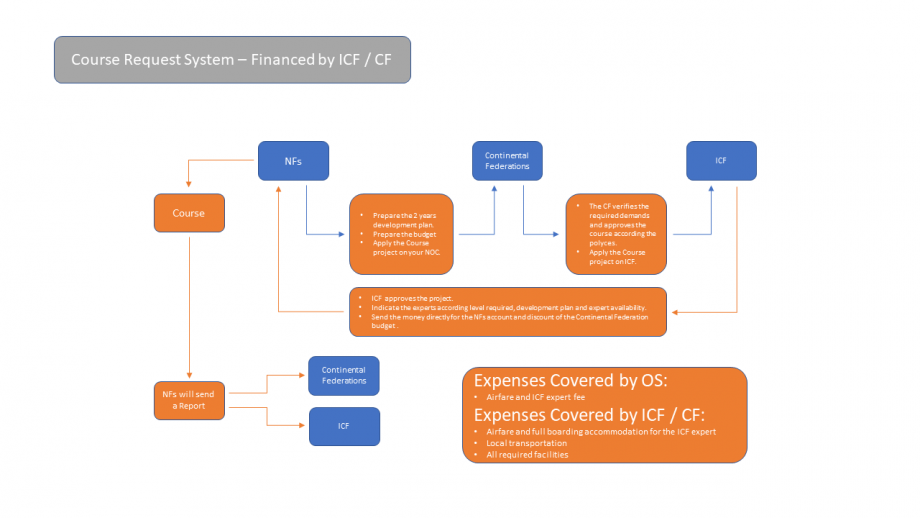 Past development camps
| | |
| --- | --- |
| 2018 | 2019 |
| | |

Reports
Whitewater: Canoe Slalom, Wildwater Canoeing, Canoe Freestyle
Date
Location and Event
Report
02/09/2020 - 08/09/2020
Canoe Slalom TIP camp - Pau, France
Report
06/03/2020 - 11/03/2020
Canoe Slalom African Continental Development Camp - Huningue, France
Report
09/12/2019 - 15/12/2019
ICF Coaches Course - Egypt
Report
26/08/2019-30/09/2019
ICF Canoe Slalom Development Programme, La Seu D'Urgell, Spain
Olympic Hopes Athletes, YOG2OG, TIP
Report
22/04/2019-02/05/2019
Expand and Extand-Iran
Report
04/03/2019-17/03/2019
ICF TIP as Judges-Chile
Report
07/12/2018-17/03/2019
3 Continents Tailor Made Programme-Nigeria, Philippines, Chile
Report
24/10/2018
ICF Congress TIP report
Report
10/2018
ICF TIP training camp in Rio-Brazil 
Report
14/09/2018-24/09/2018
ICF TIP training camp in Lebannon 
Report
20/08/2018-09/09/2018
ICF TIP Excellence summer tour in Ljubljana and La Seu d'Urgell-Slovenia/Spain
Report
12/08/2018-19/08/2018
ICF TIP CONTINENTAL training camp in Bratislava-Slovakia
Report
01/07/2018-23/07/2018
ICF TIP World training camp in Ivrea-Italy
Report
26/04/2018
ICF TIP CONTINENTAL

training camp in Skopje-Macedonia

Report
02/03/2018-12/03/2018
ICF TIP CONTINENTAL 

training camp in Nakkhon Nayok- Thailand

Report
 
 
 
07/12/2017-18/12/2017
ICF TIP WORLD

training camp in China

Report
23/11/2017-03/12/2017
ICF EEWC

training camp in Argentina

Report
02/11/2017-07/11/2017
ICF TIP CONTINENTAL

 training camp in Algeria 

Report
23/11/2017-03/12/2017
ICF TIPCONTINENTAL

training camp in Argentina

Report
14/10/2017-23/10/2017
ICF TIP CONTINENTAL

training camp in Costa Rica

Report
10/09/2017-01/10/2017
ICF TIP WORLD

training camp in Pau-France

Report
11/09/2017-01/10/2017
ICF MCD (mixed canoe disciplines)

training camp in Pau-France

Report
11/09/2017-01/10/2017
ICF EEWC

training camp in Pau-France

Report
12/08/2017-20/08/2017
ICF TIP CONTINENTAL

training camp in Hohenlimburg-Germany

Report
10/07/2017-23/07/2017
ICF TIP WORLD

in Bratislava-Slovakia

Report
27/03/2017-28/03/2017
ICF CSL Development

training camp in Khemisset-Morocco

Report
18/02/2017-26/02/2017
ICF TIP CONTINENTAL

training camp in Nakkhon Nayok- Thailand 

Report
 
 
 
25/11/2016-26/11/2016
ICF Ordinary Congress Canoe Slalom Development Report
Report
09/10/2016-17/10/2016
ICF TIP CONTINENTAL

training camp in Rio de Janeiro- Brazil

Report
14/10/2016-22/10/2016
Educational Program

for CSL Coaching

Report
20/08/2016-28/08/2016
ICF TIP CONTINENTAL

training camp in Solkan-Slovenia

Report
04/07/2016-17/07/2016
ICF TIP WORLD

training camp in Krakow-Poland

Report
03/06/2016-26/06/2016
ICF TIP WORLD

training camp in La Seu, Pau-France

Report
03/06/2016-19/06/2016
ICF EEWC

training camp in Pau-France 

Report
17/04/2016-25/04/2016
ICF TIP CONTINENTAL

training camp in Toyama-Japan 

Report
01/04/2016-09/04/2016
ICF TIP CONTINENTAL

training camp in Skopje-Macedonia

Report
28/02/2016-06/03/2016
ICF EEWC CSL

training camp in Nakorn Nayok-Thailand

Report
 
 
 
02/11/2015-08/11/2015
ICF TIP CONTINENTAL

training camp in Sagana-Kenya

Report
20/10/2015-27/10/2015
ICF EEWC

training camp in San Gil-Colombia

Report
06/09/2015-20/09/2015
ICF TIP WORLD

training camp in London- GBR

Report
17/08/2015-31/08/2015
ICF TIP WORLD

training camp in Pau-France

Report
02/08/2015-08/02/2015
ICF EEWC

training camp in Lome-Togo

Report
15/06/2015-28/06/2015
01/08/2015-31/08/2015
ICF TIP EXCELLENCE training camp in Pragues, Krakow,
Seo, Pau, Bourg Sain Maurice
Report
29/06/2015-04/07/2015
Educational Program

for CSL Competition organisation-level 1

Report
25/04/2015-01/05/2015
ICF EEWC

training camp in Tehran-Iran

Report
16/04/2015-26/04/2015
ICF TIP WORLD

training camp in Foz de Igassu-Brazil 

Report
28/03/2015-06/04/2015
ICF TIP CONTINENTAL

training camp in Skopje-Macedonia

Report
28/03/2015-06/04/2015
ICF TIP CONTINENTAL

training camp in Pucon-Chile

Report
20/03/2015-29/03/2015
ICF EEWC

training camp in Nakkhon Nayok-Thailand

Report
17/01/2015-26/01/2015
ICF TIP CONTINENTAL

training camp in Los Andes-Chile

Report
04/04/2015-11/04/2015
ICF CSL Development Program in Dayet Erroumi-Morocco
Report
 
 
 
07/10/2014-08/10/2014 
ICF Ordinary Congress Canoe Slalom Development Report
Report 
02/09/2014-22/09/2014
ICF TIP WORLD training camp in Maryland-USA
Report
05/07/2014-13/07/2014
ICF TIP CONTINENTAL training camp in Huauchinango-Mexico
Report
28/06/2014-07/07/2014
ICF TIP CONTINENTAL training camp in Skopje-Macedonia
Report
05/07/2014-10/07/2014
ICF COACH CLINIC 
Report
16/04/2014-28/04/2014
ICF TIP WORLD training camp in Penrith-Australia
Report
25/01/2014-31/01/2014
ICF CSL Education program
Report
 
 
 
19/12/2013-23/12/2013
ICF EEWC training camp in Lome-Togo
Report
12/12/2016-23/12/2013
ICF TIP CONTINENTAL  training camp in Kuala Lumpur-Malaysia
Report 
16/10/2013-23-10-2013
ICF TIP CONTINENTAL training camp in Sagana-Kenya
Report 
06/09/2013-16/09/2013
ICF TIP WORLD training camp in Prague-Czech Republic
Report 
25/07/2013-04/08/2013
ICF TIP CONTINENTAL trainging camp in Bourg Saint Maurice-France
Report
11/07/2013-21/07/2013
ICF TIP WORLD training camp in Liptovsky Mikulas-Slovakia
Report 
15/05/2013-27/05/2013 
ICF TIP CONTINENTAL  training camp in Shueili-Taiwan
Report 
02/03/2013-10/03/2013
ICF TIP CONTINENTAL training camp in  Union de Tula-Mexico
Report
21/02/2013-27/02/2013
ICF Educational program in  Sagana-Kenya
Report 
24/01/2013-09/02/2013
ICF Educational  and Development program in Venezuela
Report 
28/02/2013-07/03/2013
ICF Development program in Cesson-France 
Report 
 
 
 
16/11/2012-17/11/2012
ICF Ordinary Congress Canoe Slalom Development Report
Report
28/11/2012-11/12/2012
ICF Development program in Firtina-Turkey
Report 
11/03/2012-17/03/2012
ICF TIP CONTINENTAL training camp in Foz de Igassu-Brazil
Report 
29/09/2012-09/10/2012
ICF Educational program in Nakkhon Nayok-Thailand
Report
17/03/2012-31/03/2012
ICF Development program in Nakkhon Nayok-Thailand
Report
24/01/2012-18/02/2012
ICF TIP CONTINENTAL training camp in Ash river &Dihlabeng-South Africa
Report 
24/01/2012-04/02/2012 
ICF TIP CONTINENTAL training camp in Ash river &Dihlabeng-South Africa
Report 
01/10/2012-13/10/2012
ICF Educational program in Costa Rica
Report 
 
 
 
01/12/2011-19/12/2011
ICF TIP CONTINENTAL training camp in Miyi-China
Report
01/09/2011-12/09/2011
ICF TIP WORLD training camp in Bratislava-Slovakia
Report
 
 
 
18/18/2010-29/12/2010
ICF TIP CONTINENTAL training camp in Chiangmai-Thailand
Report
10/2010
ICF SURVEY AND COACHING in Chiang Mai-Thailand
Report
08/2010
ICF SURVEY in Jalisco-Mexico
Report 
25/08/2010-13/09/2010
ICF TIP WORLD training camp in Tacen-Slovenia
Report 
04/08/2010-07/08/2010
ICF DEVELOPMENT camp in Chiang Mai-Thailand
Report 
04/2010
ICF DEVELOPMENT camp in Chinese Taipei
Report
02/2010
ICF DEVELOPMENT camp in Malaysia
Report 
03/2010
ICF DEVELOPMENT camp in Indoesia
Report
03/2010
ICF DEVELOPMENT camp in Chinese Taipei
Report 
02/2010
ICF DEVELOPMENT camp in Chinese Taipei
Report 
13/01/2010-16/01/2010
ICF DEVELOPMENT camp in Jakarata-Indonesia
Report
Flatwater: Canoe Sprint, Canoe Marathon, SUP, Paracanoe
Canoe Sprint TIP camp 2021, Szeged, Hungary
Marathon development camp 2019, Shaoxing, China
Canoe Sprint and Paracanoe TIP camps 2019
Canoe Sprint development programme 2017-2018