Believe the hype - paracanoe goes from strength to strength
There's been a real buzz around paracanoe for the past few years, ever since that momentous moment when it was announced the sport would be joining the Paralympics.
For the record, paracanoe first got the Paralympics nod in 2010. But it wasn't until the start of 2015 that all the required checks and balances were finally approved, and in Rio in 2016 it finally happened!
What a show it was. So impressive that when the ICF went back to the International Paralympic Committee and asked for more events to be added to Tokyo 2020, the answer was an emphatic yes.
Against that backdrop the 2018 ICF Paracanoe World Championships gave the world a taste of what's to come in Japan, and it's exciting. Va'a, or outrigger canoe, will add three new medals in Tokyo – two for men and one for women, and it's already caused a shake-up among the athletes.
Australia's Curtis McGrath and Great Britain's Emma Wiggs made a seamless transition, putting themselves in line for a golden double at next year's Paralympics. McGrath, the Australian soldier who stepped on a landmine in Afghanistan, lost both his legs, but managed to promise soldiers carrying him on a stretcher that he would one day be at the Paralympics, is a star on and off the water.
His workload has increased significantly, both as an athlete and as a paracanoe ambassador, since bursting onto the scene in the lead-up to Rio 2016. His story is inspiring, and he never tires of telling it to a variety of audiences, be they corporate high-flyers, business groups or school children.
He was an ambassador in 2018 for Prince Harry's Invictus Games in Sydney, and somehow also managed to find time to add another two world championship titles to his growing collection. He now has eight, to go with his Paralympic gold from Rio.
"That was pretty tough, but we had really great conditions and I was pushed all the way," McGrath said.
"The competition is really heating up, it's two years tomorrow until the Paralympic Games, so it's exciting. Momentum is building for the Games.
"It's definitely been difficult. I had a good prep for this competition, thankfully I did enough, just."
Unlike McGrath, Wiggs didn't have a good preparation for Montemor. But a wrist injury which would have left mere mortals writhing in pain and refusing to leave their bed, could not hold the Brit back from competing.
It did prevent her from winning the KL2 final which she has dominated for the past three years, losing out to her British teammate Charlotte Henshaw, but she dug deep to take the VL2 ahead of another Brit and 11-time world champion, Jeanette Chippington.
"I'm just proud to have sat on the start line and delivered the best I possibly could, and today that was good enough for gold," Wiggs said.
"It's really irrelevant, injuries. If you line up on the start line, then you are there to race with whatever you've got.
"Obviously the silver medal was disappointing, everyone wants to lay down their best and hope that's good enough to win. But I can't really be unhappy, it helps that it's my teammate on the top spot."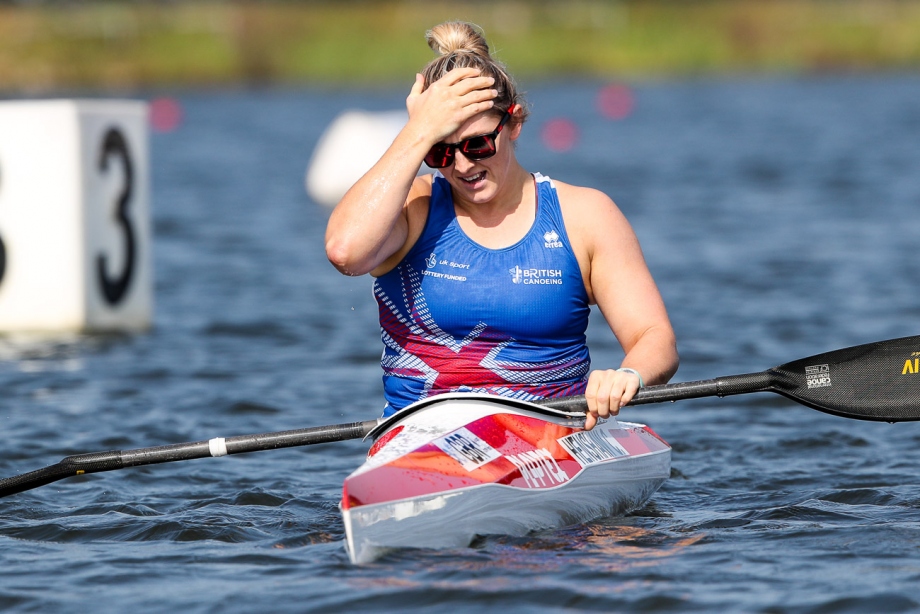 Henshaw, a paracanoe convert from para-swimming, was stoked to find herself on the top block of the podium after winning silver and bronze as a swimmer.
"I've been waiting for this for a long time, I never managed to do it as a swimmer, so this is pretty special," Henshaw said."
"I really think there is something to being comfortable with the water, and to understand and be confident with the movement through water and on water, and I think that has helped me out.
"There's an incredible team back in the UK who have guided me through that transition from swimming to kayaking, and it seems to be working."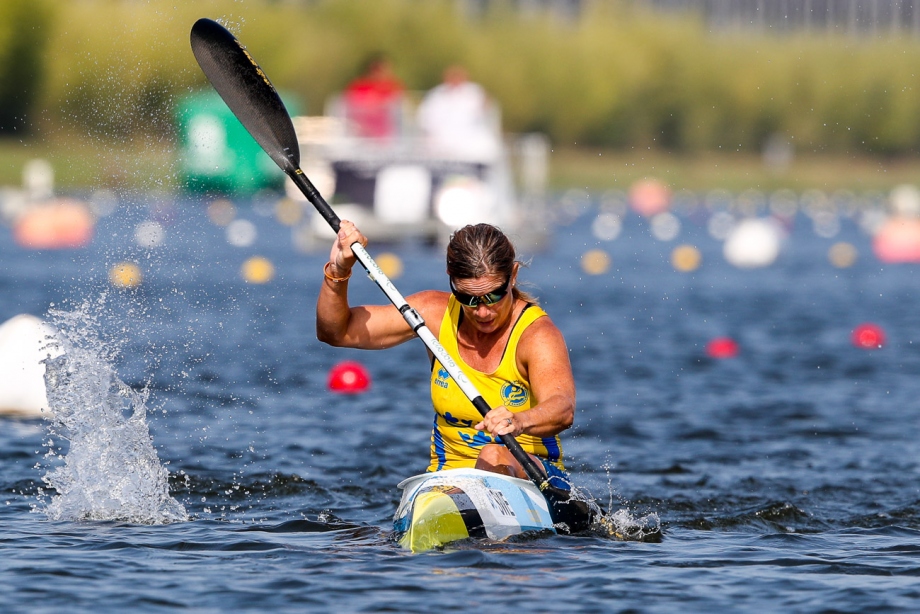 Another paracanoe convert turning heads in Montemor was Sweden's Helene Ripa. Her para career dates back to 1992, where she competed as a swimmer in Barcelona, and includes gold and silver medals won in paraskiing at the 2014 Sochi Winter Olympics.
Ripa held off Australian Paralympic silver medallist, Amanda Reynolds in the women's KL3.
"It means a lot to me because this is another step on the road to Tokyo, and this medal shows that I am on the right track," Ripa said.
"I changed sport about two years ago, and I think I made the right choice. This is a real challenge for me, and I still want to know how good I can get.
"The transition has been easier than I thought, because you need a strong upper body for both. But it's still hard, and it's a very different kind of training."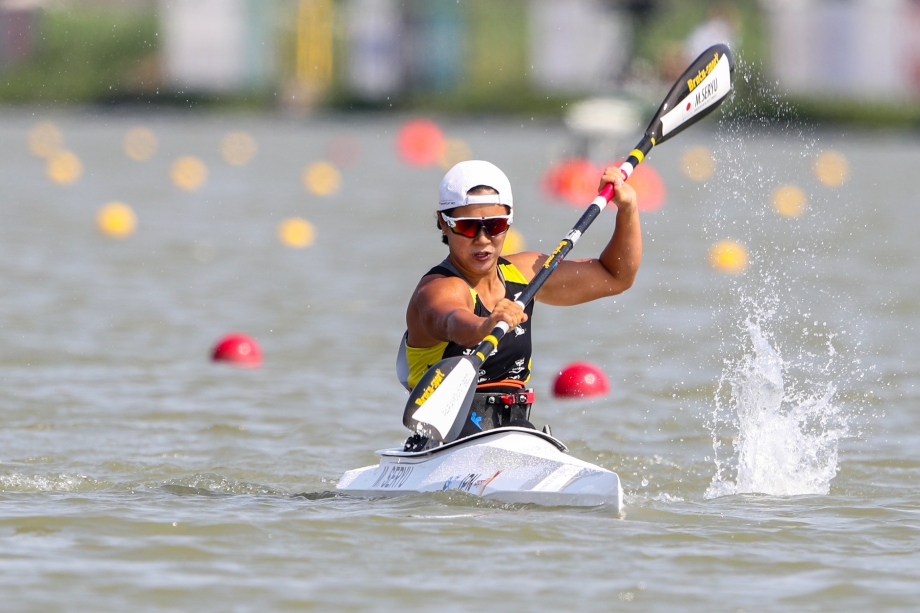 2016 Rio Paralympic gold medallist Serhii Yemelianov successfully defended his KL3 200 world title, finishing ahead of Brazil's Caio Carvalho and Russia's Leonid Krylov.
"This is a great result for me," Yemelianov said.
"Now we can look ahead for Tokyo."
It was the first time on the top of the podium for Ukranian teammate Maryna Mazhula, victorious in the women's KL1 200.
Mazhula finished ahead of Italy's Eleonor De Paolis and Great Britain's Jeanette Chippington, the defending World and Paralympic champion.
Estaban Farias led from start to finish to successfully defend his KL1 men's world title, holding out Hungarian Robert Suba in a time of 49.796, with Brazil's Luis Silva third.
"This was the hardest race for me," Farias said.
"The wind made it really difficult, so I am very glad to have won again."
The most emotional of all Montemor's Paracanoe gold medallists was Brazil's Igor Tofalini, who overcame his teammate Luis Silva to win the VL2, his first ever world title.
The former rodeo rider gave Brazil their first gold medal in the Paracanoe events in Montemor-o-Velho.
The 2019 ICF Paracanoe World Championships will be held in Szeged, Hungary, in August.