Pimenta and co take canoe sprint to next level
The stars came out to play at the 2018 ICF Canoe Sprint World Championships, but there was one star who shone brightest of all, turning on a master display that whipped the big Portuguese crowd into a frenzy.
For months in the build up to the Montemor World Championships Fernando Pimenta was the face of the event. He was Portugal's most successful canoe paddler of all time, was a better-than-even prospect of winning gold at home, and was easily marketable.
There was always the danger that the local federation was placing too much pressure on the young man who shared Olympic K2 1000 silver in London in 2012.
They need not have worried. Pimenta, as it turns out, thrives on pressure. Can't get enough of it. Draws his opponents into his web with a laid-back, almost slap-stick pre-race routine, and then blows them out of the water over 1000 metres of brutal bravado.
He did it twice in front of his adoring fans – first in the K1 1000, and then in the K1 5000.
"I don't believe it, I can feel my legs failing," Pimenta said.
"It's such a crazy moment. I think maybe next week I will believe this moment has happened.
"I slept for nine hours last night because I was so relaxed. I know that this is such an important result for Portugal, a good start for us for the next season."
Check out the list of athletes who Pimenta stole the headlines from – Kozak, Brendel, Carrington, Vincent-Lapointe – a who's who of world canoeing who all stepped up to the plate in Portugal, and who left Montemor with their already revered reputations enhanced ahead of Tokyo 2020.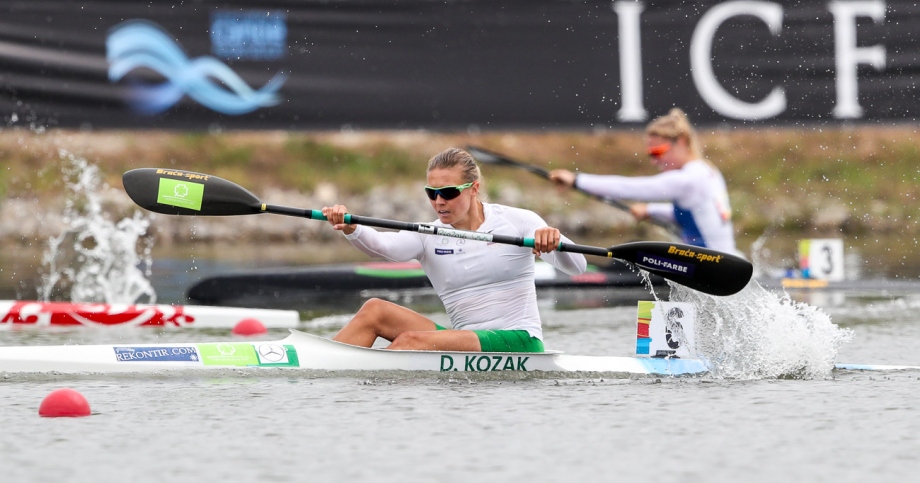 Kozak was the unknown factor among the group heading into the world championships. The five-time Olympic gold medallist had not been seen on the water since her record-breaking winning treble in Rio, having taken time out to have a baby.
Her return was a triumph, but a hard-earned one. For two days the 31-year-old and her Hungarian teammates slugged it out with two-time Olympic gold medallist Lisa Carrington and her New Zealand colleagues.
They were the races of the championships. Three times they went head-to-head, and each time the Hungarians triumphed, on every occasion in less than the time it takes to blink an eye.
Kozak outlasted Carrington in the K1 500 by just 0.734 seconds; she teamed up with Anna Karasz to nose out Carrington and Caitlin Ryan by 0.023 seconds in the K2 500, and then helped steer the Hungarian K4 to victory over New Zealand by an incredible 0.010 seconds.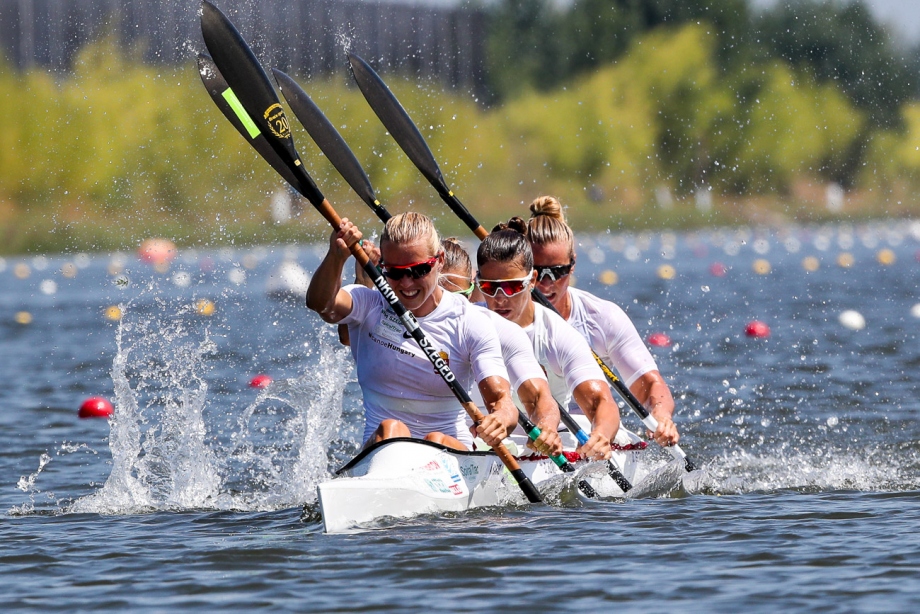 It was breathtaking racing. As an entrée to what we might expect in an Olympic qualifying year, and then again in the Tokyo Olympics, it was highly satisfying. The taste buds have been well and truly left tingling.
"It's very hard to get to the top of the world, it takes a lot of training, very hard training," Kozak said.
"I am not the sort of person who feels confidence, I always feel nervous, so I am happy to get a win."
Carrington is also a star, a firm fan favourite who has completely dominated the women's K1 200 since before the London Olympics. She dreams of four gold medals in Tokyo, a feat no-one has ever even attempted let alone achieved.
It will make for an interesting discussion between Carrington and Team NZ. Does she go all out for Olympic history, but run the risk of burning out and leaving without a gold, or does she turn her focus on winning a third K1 200 Olympic title?
"It being such a big weekend, and still being able to put that out there, it gives me quite a bit of confidence," Carrington said.
"It's the race that put me on the map, I love doing it and I feel like I can still keep improving.
"(Doing four events) is incredibly challenging, but it's good for me to be able to do it. At these times you just have to put as much pressure on yourself as possible."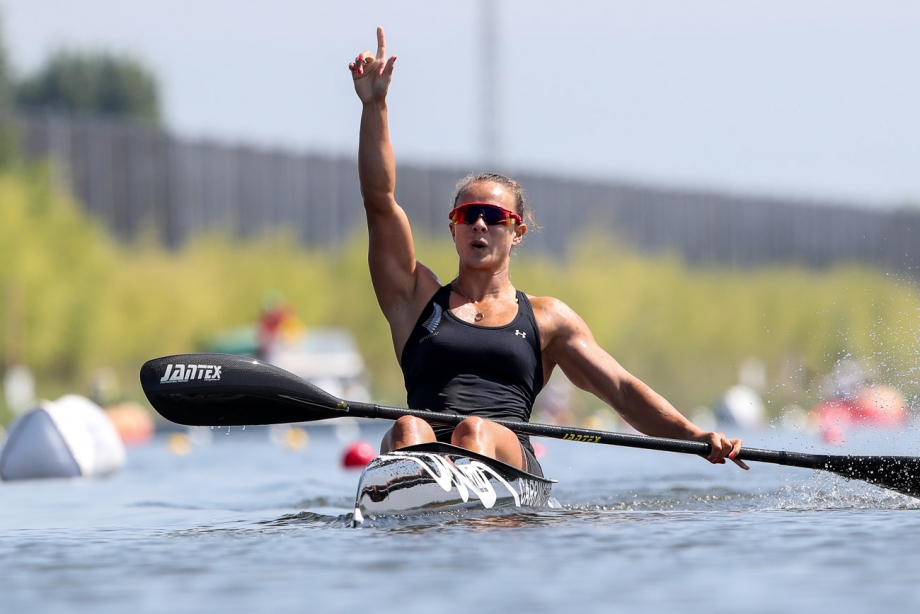 Sebastian Brendel is like your favourite pair of walking boots. It doesn't matter what the conditions are, you know they won't let you down. In Montemor he stared down all comers to win the C1 1000, and also trousered the C1 5000 to add to an already considerable bling collection.
He has three Olympic gold medals safely tucked away. He now has 10 world championship titles. At 30, the big German could have another two Olympics in him at least.
"I always have pressure, because everyone always wants to beat me, and everyone is always expecting that I will win," Brendel said.
"It's not easy to do it every year, it takes a lot of high level presentation, so I am happy to have been able to do it again this year."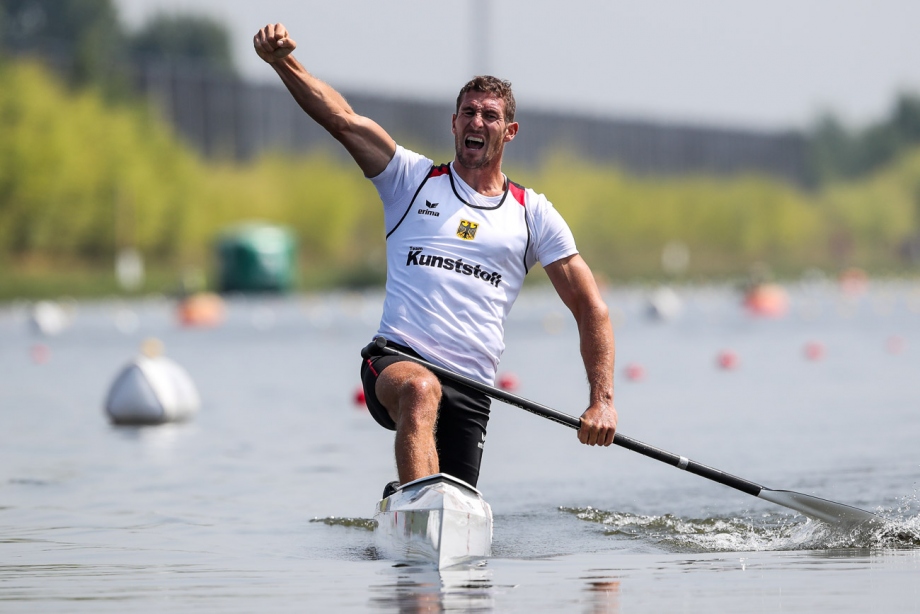 With all the high-profile world beaters in sprint canoe in 2018, perhaps the hottest favourite for Olympic gold in Tokyo is an athlete who is yet to actually compete at a Games.
Good things come to those who wait. And Canada's Laurence Vincent-Lapointe has certainly been patient. For years she has waited for women's canoe to be added to the Olympic program, biding her time and planning for the day she can show the world how incredible she is.
Tokyo will be that day. Vincent-Lapointe will contest the C1 200, and team up with Katie Vincent in the C2 500. Barring disaster, it should be double gold for Canada. One suspects they could even paddle their canoe upside-down and still come home first.
In Montemor the Canadian pair did not diminish their standing. Vincent-Lapointe won the C1 200, and then with Vincent they won the C2 500.
"I feel the pressure, but I try and do my best and work to get faster and faster every year," Vincent-Lapointe said.
"There is no way you cannot feel the nerves before a race at worlds, I feel very stressed before, but that's the game."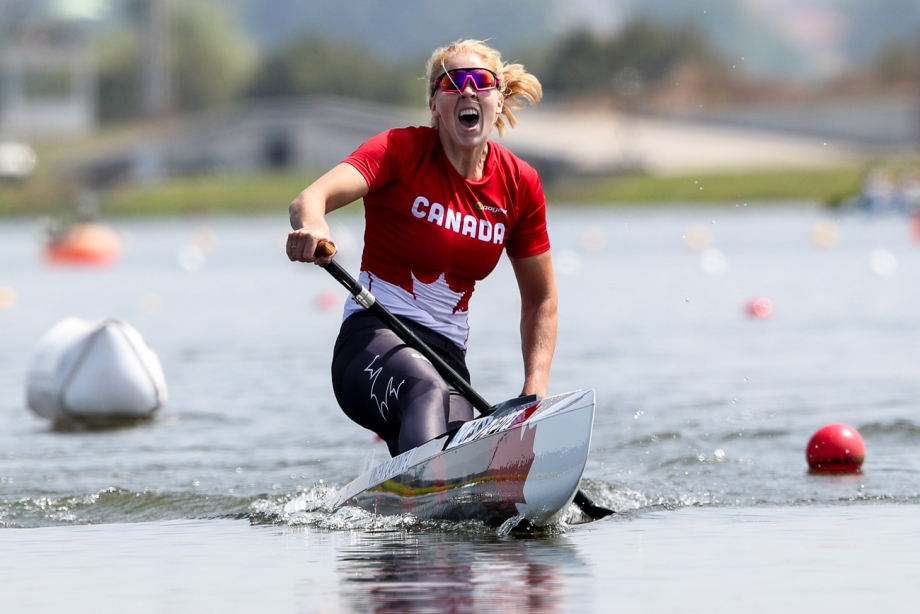 Tokyo will also see the introduction of the men's K4 500, replacing the 1000. Germany cottoned on to how to put the perfect boat together well before the rest of the world, and have reaped the benefits.
Imitation is the sincerest form of flattery, and other countries are now ripping pages from Germany's play book. So far they haven't been able to topple the crew from Deutschland, a combination of their very best 200 metre paddlers and their top two 1000 metre exponents.
In Montemor Max Rendschmidt, Tom Liebscher, Ronald Rauhe and Max Lemke got the job done again, but they felt the hot breath of the Spanish foursome breathing down their necks.
"The secret of our K4 is that we are all individual guys and we can all race in individual events," Liebscher said.
"At training we push as hard as we can against each other, and then when we get into the K4 we work well together."
Another German crew, Yul Oeltze and Peter Kretschmer, are also putting all the right moves together in the C2 1000 ahead of Japan. In 2018 they became the first men's C2 1000 crew to successfully defend their world title since 2002.
"Every time you win it's a great feeling, and when the win is a little bit of history, it's even more exciting," Kretschmer said.
"It's a good feeling that we are such a good team, we know we can go very fast, and for now we are just happy to have won the race," Oeltze said.
And then there's Max Hoff and Marcus Gross. Hoff will be closer to 40 than 30 at next year's Olympics, while Gross has the hungry look in his eyes that comes with winning double Olympic gold in Rio.
They teamed up in Portugal to win the men's K2 1000. It's a race expected to be hotly contested in Tokyo, and after bombing out at the 2017 world titles, the German duo were pretty stoked to get it right in 2018.
"Last year was a bad day I think, because we had fast times but we weren't able to show it on the day," Gross said.
"Today we showed we were able to do it again. Every time you go on the start line and paddle again, the fire inside the belly burns to win again."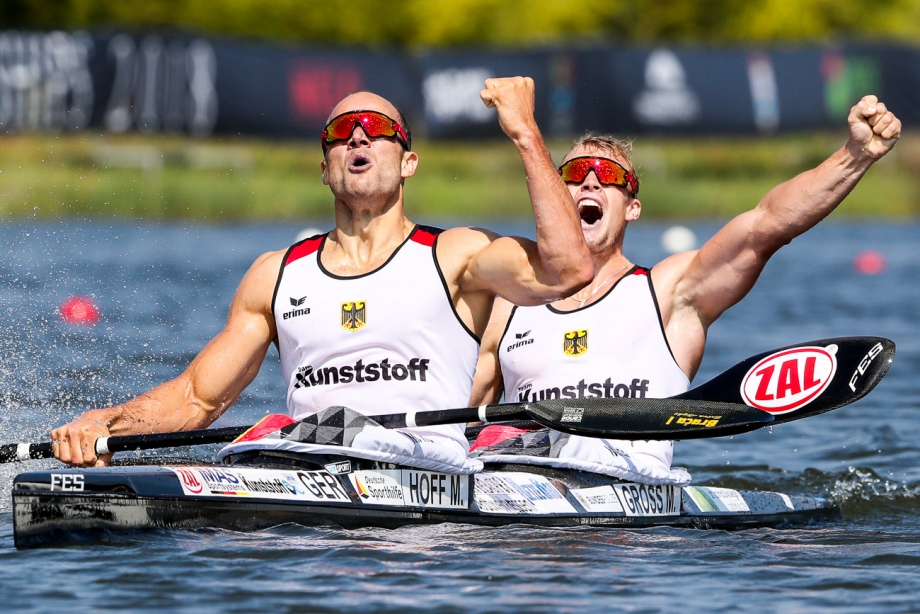 The K1 200 is always difficult to predict. Rio gold medallist Liam Heath opted out of the distance this year to focus on the K4 500, and it was Spain's Carlos Garrote who made the most of the Brit's absence.
There was a big and loud Spanish crowd presence throughout the Montemor world championships, just itching to engage in raucous celebrations. Garrote provided them with the opportunity.
"My friends, my family, they are all here so I am very happy for my people," Garrote said.
"I am very happy, I felt very strong, and now I am the world champion."
The 2019 world championships, and key Olympic qualifier, will be held in Szeged, Hungary, in August.