YOG shows future for canoeing looks strong
The future of canoeing was once again on show at the Youth Olympics, and what a show it was! Right in the heart of the Argentinian capital, Buenos Aires, on the Puerto Madero docks in the Games' urban park, it proved the perfect setting to showcase our exciting hybrid discipline.
Canoeing at the Youth Olympics is a combination of sprint and slalom and is open to 15 and 16-year-old athletes. It made its debut at the 2010 YOG in Singapore, when a young Jessica Fox was among the gold medallists, and has proved an excellent starting point for the stars of tomorrow.
Nine countries made their Youth Olympic Games debut in Argentina, including Tunisia, Mozambique, Iran and Chile.
Others to earn quotas for the first time were Thailand, Chinese Taipei, Nigeria and Mauritius. Host nation Argentina also made its first appearance.
In total 64 athletes competed in Buenos Aires, with competitors earning quotas for their countries at YOG selection trials in Barcelona. A record 250 boats from more than 60 nations took part in the hotly-contested qualifiers.
To cap off what was already a fantastic event for our sport, a graduate from the ICF's Talent Identification Program (TIP) won canoe gold!
Mauritius, a speck in the Indian Ocean with a population of 1.2 million, has had a sprinkling of world class athletes during its sporting history, but in Buenos Aires it has its first gold medallist in an Olympic competition.
16-year-old Terence Saramandif was too strong in the final for New Zealand's Finn Anderson, who picked up the silver, while Spain's Yoel Becerra Bernardez took the bronze.
"I'm really happy, it was a great experience, but I was nervous all day," he said.
"I worked hard during the summer, and all year, so I'm really happy to have this medal.
 "I think this medal can be the beginning of the development of my sport in Mauritius.
"Maybe some children will have seen me, and will want to do the same. There's not a lot of areas to train in Mauritius, so for me, I live in France to train.
"But one of my dreams is to develop canoeing in Mauritius, to try and create a stadium. Why not?"
Slovakia's Emanuela Luknarova overcame a scratchy semi-final to win gold in the women's kayak event, continuing her country's love affair with the water.
After two days of sprint canoe competition, Luknarova finally got a chance to show what she is capable of when the competition switched to the slalom obstacle race.
The 16-year-old was the stand-out performer throughout the day, before finishing ahead of France's Doriane Delassus in the gold medal race.
"It's been a good day, I felt strong while I was racing and it was enough for a gold medal, so I'm happy," she said.
"My worst race was the semi-final, and I had to win if I wanted to make sure I would get a medal. So that went okay for me.
"But I knew that in the final I had the best time for the whole day, so I felt confident I could win the gold.
"I'm a really impatient person. So it was hard for me, but today it was here and I am happy. I'm excited, and I want everybody who likes canoeing to train hard and get the feeling I am having now."
There was also success for Chinese Taipei, another country with a limited canoe history, with Tzu-Hsuan Lai taking the bronze medal.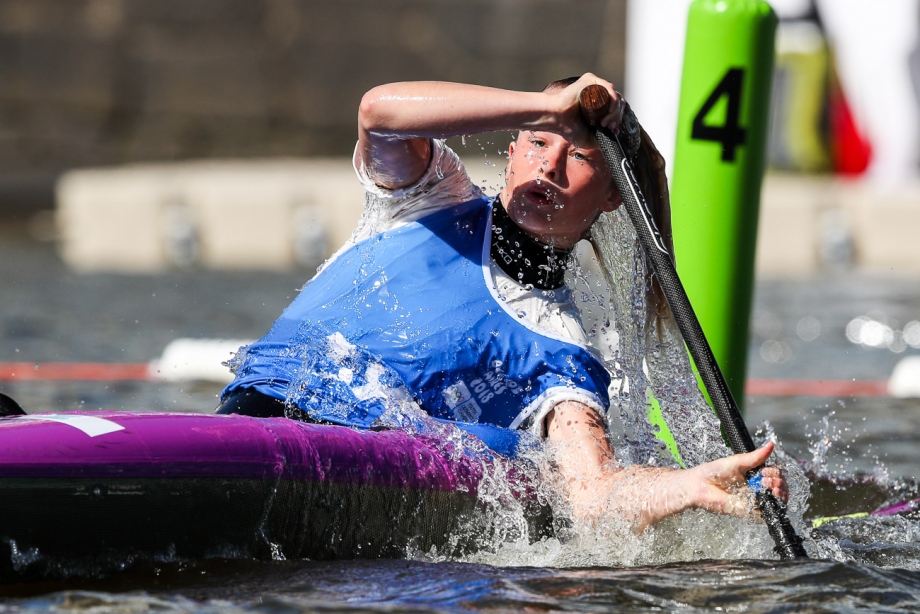 15-year-old Delassus got her revenge the following day though, while Slovenia's Lan Tominc lived up to his pre-race hype to take men's gold on the final day of canoe competition.
Delassus won silver in the women's kayak slalom obstacle, but went one better the next day by holding out Germany's Zola Lewandowski to win the women's canoe slalom obstacle gold.
"I still don't realise that I have won it," Delassus said.
"I'm in a hurry to go back to France and show my medal to my family and friends."
The teenager, who turned 16 the following month, said she felt relaxed before the canoe final after winning silver in the kayak the previous day.
"I wanted to do better than yesterday, but I was already really happy because I already had a medal," Delassus said.
"I was a little more calm today, because I had already a medal, so if I didn't get anything today, I already had something."
The gold medallist from Monday's kayak, Slovakia's Emanuela Luknarova, took the bronze in the fastest time of the competition.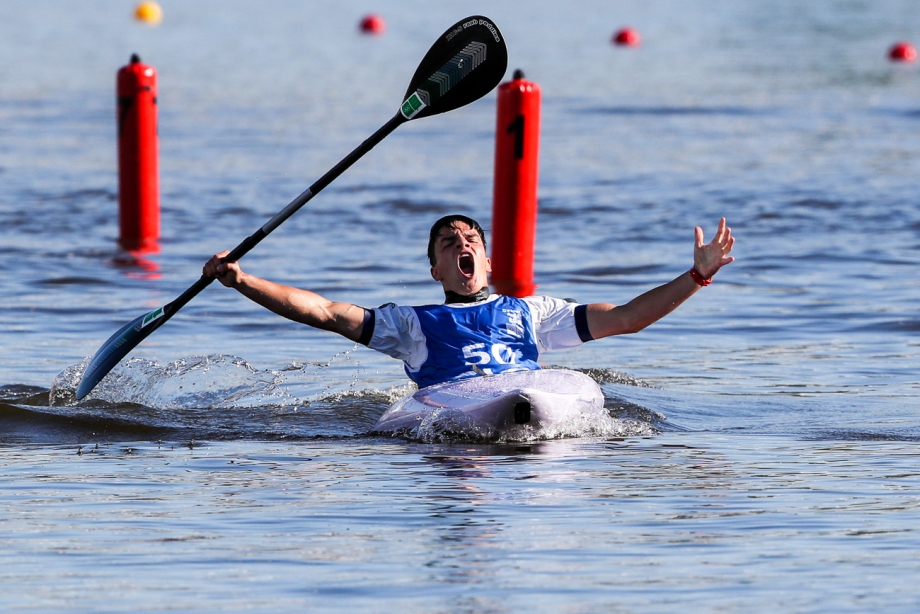 Slovenia's Tominc came to Buenos Aires with high expectations after a commanding performance at the YOG qualifiers in Barcelona in April.
But after watching his Chinese opponent, Changheng Guan, he knew he would be in for a tough final.
"I actually dreamed that it would be us in the final after I watched him in training," Tominc said.
"I knew he was going to be tough. I just tried to think about everything else, the course and the crowd cheering.
"I was just trying to be calm as much as possible. But I was not calm. I was shaking. I'm still shaking, but now I am shaking with joy."
Guan took the silver for China, while France's Tom Bouchardon won the bronze.
The fantastic stories continued to come at the YOG. Athletes competing for the first time outside of their countries, teenagers overcoming tremendous odds just to be in Buenos Aires.
Uzbekistan won its first ever canoeing gold medal at a Youth or senior Olympic Games, and two months after almost walking away from the sport, Hungary's Adam Kiss won an emotional gold medal.
At just 16 years of age Uzbekistan's Gulbakhor Fayzieva has earmarked herself as a canoeing star of the future, following a slashing gold medal performance in the women's canoe.
Fayzieva was the standout performer in the women's canoe sprint at the YOG qualifiers in Barcelona in April, and in a repeat of the final six months ago, once again showed herself a class above with a 10-second win over Hungary's Laura Gonczol.
"We worked very hard to be prepared for this," Fayzieva said.
"I've been training two times a day, preparing for these Games in Tashkent. I'm very honoured and proud, because this is the first Olympic medal in Uzbekistan history.
"I want to go to an Olympic Games now, I want to win a medal at the senior Olympic Games."
Fayzieva grew up in the same Uzbek village as Vadim Menkov, Uzbekistan's two-time C1 world champion and a sporting legend throughout the country. It made canoeing an easy choice, especially given her village was located on the banks of a popular canoeing lake.
The bronze medal went to Mexico's Stephanie Angle Rodriguez Guzman, spreading the medals across three continents.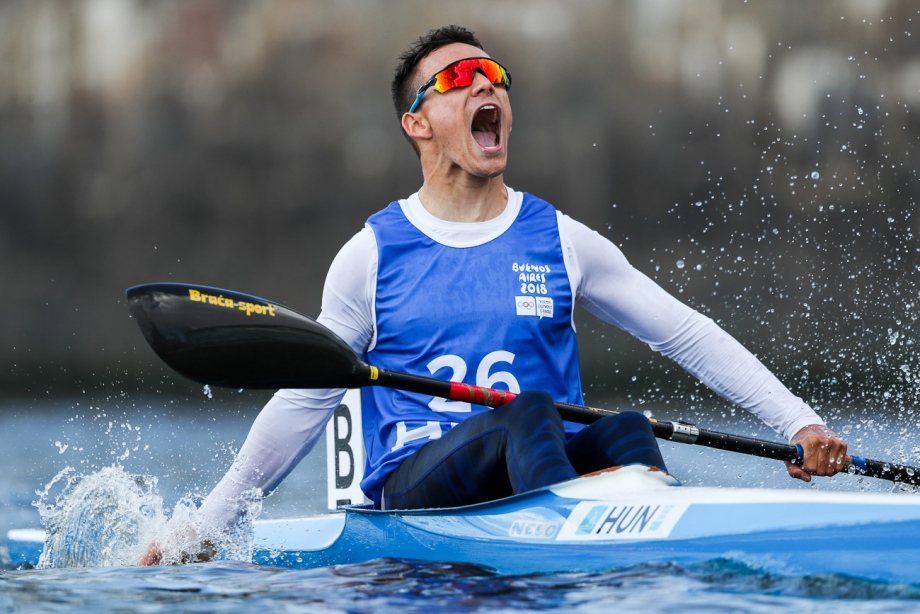 Hungary's Kiss had to work all the way to the finish line to hold off Belgium's Jules Vangeel in the men's kayak final.
The 16-year-old said the race had been a blur, but he used the support he had received from family and friends in recent days to drive him to the finish line.
He later revealed he almost didn't get to Buenos Aires.
"I touched rock bottom two months ago," Kiss said.
"I was really close to breaking down totally and quitting canoeing altogether. But I'm really happy that I overcame that weakness of mine and that I came here and got the gold.
"It was a combination of things, and I just felt a little fed up. I was maybe training too much, it was a little bit of everything.
"In my career, this is a very important stepping stone, maybe the most important stepping stone there is."
Argentina's Valentin Rossi thrilled the big local crowd by winning bronze.
Kazakhstan and Hungary won the first two gold medals on offer in the canoe competition, with Eszter Rendessy taking out the women's kayak head-to-head challenge, and Kazakhstan's Dias Bakhraddin winning the men's canoe head-to-head sprint.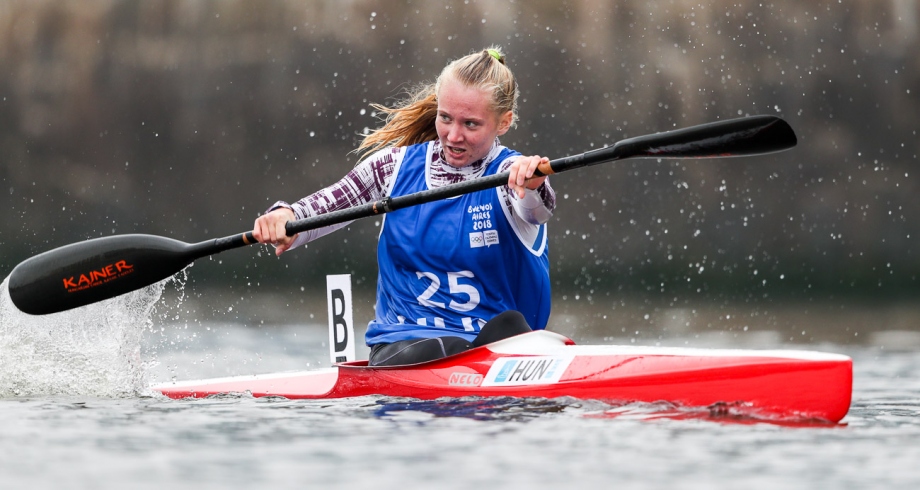 Rendessy, who lists Hungarian canoe sprint legend Danuta Kozak as a paddling hero, defeated Slovakia's Katarina Pecsukova in the gold medal race.
She started favourite after a gold medal performance at the YOG qualifiers in Barcelona in April.
"I never imagined this," Rendessy said.
"I was a bit nervous, because there were a lot of waves in the water."
The bronze medal went to Kazakhstan's Stella Sukhanova.
Bakhraddin finished third at the YOG qualifiers, but looked a much stronger paddler in the Buenos Aires waters on Friday.
He powered home to beat Uzbekistan's Islom Abdusalomov in the final.
"I wanted to do this for Kazakhstan," Bakhraddin said.
"I started this sport five years ago, it's a fast developing sport in my country. For me my main event is always sprint, slalom is another story."
The bronze medal was won by Czech Jiri Minarik.
Athletes from 16 countries and all five continents won canoe medals over the four days of competition in Buenos Aires. ICF President Jose Perurena said canoeing in the YOG was a tremendous success.
"To watch these 15 and 16-year-old athletes from all over the world competing here in Buenos Aires in front of capacity crowds has been a great thrill for our sport," Mr Perurena said.
"And to see medals shared around the globe, from Africa, Asia, Oceania, South America and Europe, proves that our sport really is worldwide."
Mr Perurena also praised the ICF's Talent Identification Program (TIP), which identified athletes in countries where canoeing was in its infancy, and prepared them for top-level competition.
The program was already considered a tremendous success, even before Saramandif's gold for Mauritius.
"Our TIP has been working with athletes all over the world, and many of them were competing here in Argentina," Mr Perurena said.
"This is a magnificent endorsement of the development program. And the best is yet to come. In Tokyo in 2020 we will be sure to see more graduates from the TIP."