What does the Fox say? Bring on Tokyo 2020!
There were lots of incredible moments during the 2018 ICF canoe slalom season, lots of pulsating moments, bundles of headline-grabbing moments – but when the dust settled and the last of the water pumps was turned off, one athlete stood taller than all others – Jessica Fox.
Superlatives that hardly do justice to the slalom season delivered by the 24-year-old Australian have been coming thick and fast, but not as thick and fast as the number of titles the two-time Olympic medallist notched up in a paddling frenzy that left world-class opponents floundering in her wake.
WOMEN'S C1
The discipline will make its Olympic debut in Tokyo next year, so it's reasonable that the athlete who shed the most skin in the bruising and, at times, bitter battle to have women's C1 recognized at the top level should also be one of the early gold medal favourites.
After 2018, Fox is undisputedly THE gold medal favourite. It wasn't just that she went through the entire season undefeated in C1, it was the way she went about it. In slalom competitions medals are often decided by half a second or less. Fox was regularly clocking times more than five seconds quicker than the next best.
On the surface next year's women's C1 Olympic debut has been reduced to a contest for silver and bronze, although Fox herself knows better than most slalom racing provides plenty of opportunities to muck things up.
But the London 2012 silver medallist and Rio 2016 bronze medallist can rest her head on her pillow every night knowing that, in all likelihood, all she needs to do to finally break through for Olympic gold is point the canoe in the right direction, jump in and take a risk-free one-minute jaunt down the Tokyo whitewater.
Of course 2017 C1 world champion Mallory Franklin (GBR), the ultra-consistent Teresa Fiserova (CZE) and Brazil's Ana Satila have different dreams every night, and they don't involve standing on the lower levels of the podium.  
WOMEN'S K1
Part two of 2018 unprecedented for the fantastic Ms Fox came in the women's K1, where she stared down Olympic gold medallists and international champions to successfully defend her world crown from 12 months earlier.
After winning the opening three world cups, the Australian finally tasted defeat in Tacen at the hands of the Austrian speedster Corinna Kuhnle, and then a week later Germany's smiling assassin, Ricarda Funk, reminded the world what she is capable of with victory in the World Cup final in La Seu.
But in Brazil Fox was back to her best, securing her third K1 world championship title. The K1 and C1 world championship double has only ever been achieved once before by either a female or male athlete – Jessica Fox, 2014, Deep Creek, USA.
It also helped, but did not completely erase, her disappointment from her performance on the same Rio course at the 2016 Olympics.
"I think with Rio, I had a bit of unfinished business after the Olympics. I left a bit frustrated with my paddling," she said.
"I just wanted to come here and be free, and really unleash in that final, and I think I did that. So I couldn't be happier. I'm loving this sport, I'm enjoying myself, and I think that's the most important thing – to love what you do.
"These world titles have all been so special, and today is extra special. I had a great season at the world cups and this is just the icing on the cake.
By season end Fox had not just put together a season unprecedented in the history of canoe slalom. She also became the most successful female paddler of all time, with nine gold medals, and the most successful individual canoe slalom paddler ever, with seven golds.
Fox turns 25 in 2019…
MEN'S C1
Before 2018 Germany's Franz Anton had enjoyed what many might describe as a 'serviceable' C1 paddling career. His main focus had been C2, which had been a good choice. It took him to the 2016 Olympics and won him a world title.
But with C2 no longer on the Olympic program, Anton had more time to focus on C1 – and judging by his results in 2018, it was time well spent!
Although he took his time getting there. By the midway point of the season, Anton was staring down the barrel of a season of missed opportunities, with no finals' appearances at the first three world cups.
But then something clicked. Sneaking under the radar, the 29-year-old shimmied his way onto the podium in third place in Tacen, backed it up with a silver in the world cup final in La Seu, and then unleashed the race of his career to become an emotional world champion in Rio.
The tears flowed, not just because it was the biggest win of Anton's career, but all week he and his teammates had been grappling with the horrific memory of the night in Rio in 2016 when their beloved coach, Stefan Henze, was killed in a car accident.
"We lost Stefan here two years ago, and this is something I always have with me," Anton said.
"It was great that he could be here with me on this run and that I could be fast. His last day was the final day of our C2 run, and after, he was gone. This was the memory when I went back home, so it's great that I could come back here and win the medal.
"He was a good friend, we are a team, and everyone knows each other. We have such great emotions and feelings and memories."
Slovakia's Alexander Slafkovsky proved you can win a season title without actually winning a world cup event. His four consecutive silver medals were enough to secure the booty, while Germany's Sideris Tasiadis enjoyed the view from the top of the podium more than any other C1 paddler in 2018, taking the big step on three occasions.
MEN'S K1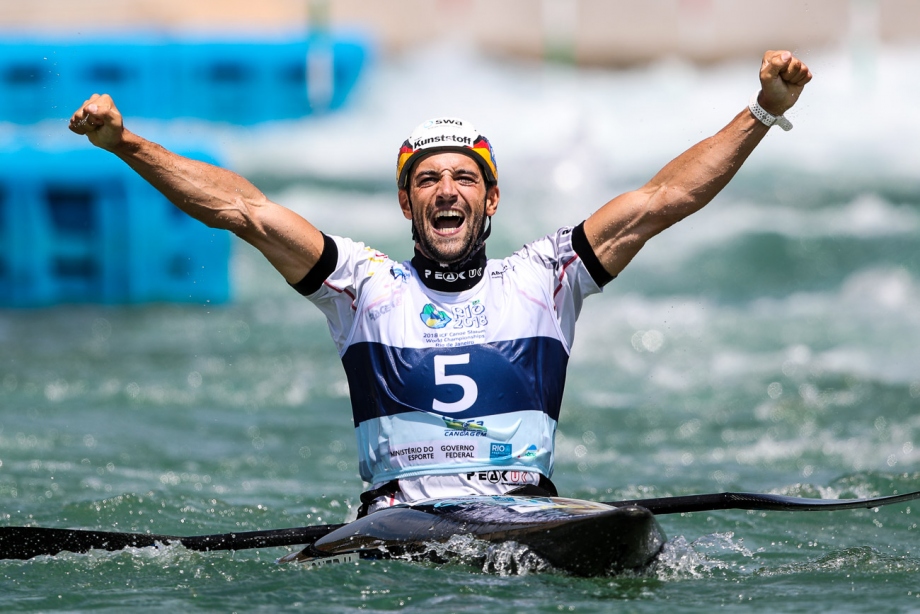 Speaking of snaring season titles without finishing as top dog at any world cups, Czech Jiri Prskavec managed to pull it off in the men's K1. The pint-sized Olympic bronze medallist picked up two silver medals and two bronze medals in 2018, which was enough to put him top.
Prskavec capped off his incredibly consistent year with a silver medal at the world championships. In 2017 he also went through an entire season without a gold – in fact, you have to go back to Prague in September 2016 to find the last time the 25-year-old won an individual world cup gong.
Which doesn't mean he's no longer one of the most feared competitors in men's kayak slalom. Because he is, and anyone who tells you otherwise is having a laugh.
It was a champagne moment for Germany's Hannes Aigner at the Rio World Championships. He sizzled down the Deodoro course to take gold, the biggest win of his career, and incredibly, the first German K1 world title for more than a decade.
Fabian Dorfler in Sydney in 2005 was the last German to salute the judge at a world championships. But that wasn't even on Aigner's mind in Rio – his biggest battle was with his previous inability to nail a good run when it really mattered.
"It was pretty hard for me to make this run, I had a lot of finals and didn't make a good performance," Aigner, a two-time Olympian with a London 2012 bronze medal in his trophy cabinet at home, said.
"This was the first time for me to make a pretty good run in an important final. I risked everything, I didn't want to finish in the fourth place, so it all worked out. Now this is my best season ever.
"We have a long tradition in K1 men in Germany, we have many titles, but the last title was a long time ago, so I'm happy to continue this series of success for Germany."
So at the end of 2018, are we any closer to nominating a K1 gold medal favourite for Tokyo next year? No way. There were six top-level international races during the season, and six individual winners. Any one of those six could win gold next year; so could a long line of the season's also rans.
MIXED C2
Poland's Marcin Pochwala and Aleksandra Stach, coach and student, won the first C2 mixed slalom world title contested for almost 40 years. Mixed C2 enjoyed a resurgence in 2018, with the discipline regularly contested at world cup events throughout the season.
In six races during the season, there were five different winners. Only the Czech duo of Tereza Fiserova and Jakub Jane, 2018 season champions, managed to win more than once, and were easily the most consistent team for the year.
But the world championship race in Rio did not go as planned for Fiserova and Jane, the pair having to settle for fourth behind the Poles, France's Yves Prigent and Margaux Henry, and fellow Czech's Veronika Vojtova and Jan Masek.
Pochwala is a four-time Olympian in men's C2, finishing fifth on two occasions. In 2018 he turned his attention to coaching Stach in C1.
The pair have been paddling together for one year. Their best result during 2018 was a third on their home course in Krakow.
"I feel very good, I think it's a dream," Pochwala said.
"This is my first time as a world champion. We have been together for about one year, but we don't have professional training. We don't paddle together every day.
"We thought we could maybe win a medal this week. That would have been a good result for us."
"He is my coach in C1, so in C2 mixed we maybe train together one time a month," Stach said.
EXTREME SLALOM
The numbers continued to grow and the standard continued to rise in extreme slalom during 2018. The sport is still very much in its infancy as part of the canoe slalom program, but the response from athletes, spectators and television networks indicates it's here for the long haul.
Helping the cause was a home-town title for Brazil's Ana Satila at the 2018 World Championships. Satila could count herself lucky to make the final, after three of the four athletes in one semi-final, including the Brazilian, were disqualified in an earlier round.
"It was a tough day, and I'm really tired," Satila said.
"The crowd here in Deodoro was really amazing, and I really enjoyed paddling and I'm just super grateful for everything I will be leaving here in Rio this time.
"I just tried to enjoy and have fun, that's all."
Dutchwoman Martina Wegman took the silver and Russia's Polina Mukhgaleeva finished third.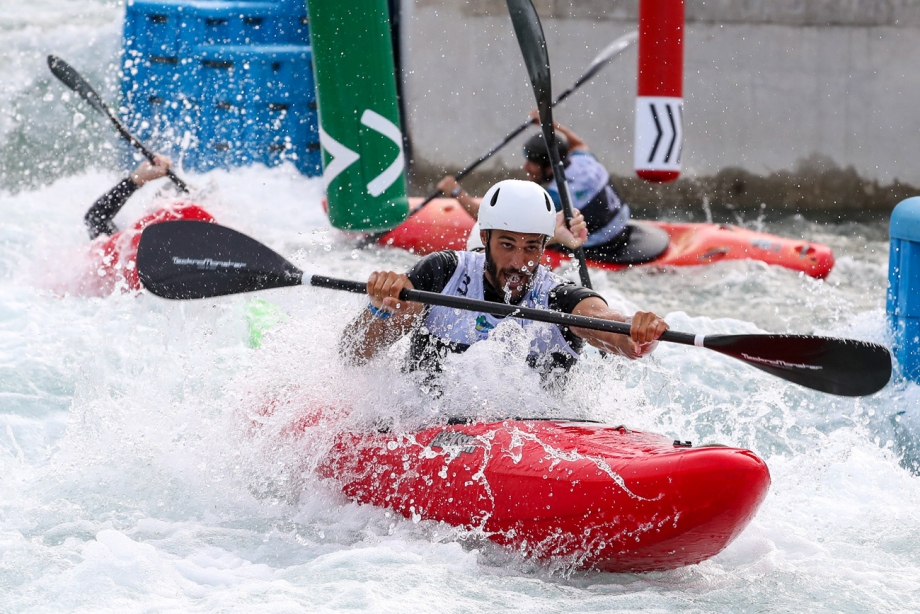 Italy's Christian De Dionigi was the winner of the men's world title, using all his wild water experience to take the title ahead of France's Boris Neveu and Argentina's Thomas Bersinger.
"It's so much fun, you never know what's going to happen so you have to fight from the beginning to the end," he said.
"I've done a lot of creeking so I'm very familiar with this type of boat, so I just tried to have fun."
The season trophies were won by Wegman in the women's competition, ahead of Satila and Mukhgaleeva. The men's title went to Russia's Pavel Eigel, ahead of New Zealand's Mike Dawson with De Dionigi third.
Eigel won races in Slovakia and Germany, but had to settle for ninth in the world championship final.
There were 27 men from 20 different nations competing in extreme slalom at the Rio World Championships, while there were 23 athletes from 15 countries in the women's event.