Canoe Slalom Olympic Heats Day 2 Review and Day 3 Preview
Monday was all about heat 2. Some big names had to dig deep and deliver controlled runs in the 2nd heat to ensure qualifications. Invariably, some delivered and for others in meant unexpected early exits.
First, a review of the C2M and K1W heats followed by a preview of what to expect on Tuesday for the C1M semi-final.
C2M – Stroll in the X-Park for some of the big names in C2M
In the C2M heats 11 of the 12 started were set to qualify for Thursday's semi-final.
| | | | |
| --- | --- | --- | --- |
|   | Name | Country | Time |
| 1st | Skantar/ Skantar | SVK | 100.89 (0) |
| 2nd | Klauss/ Peche | FRA | +1.54 |
| 3rd | Florence/ Hounslow | GBR | +2.38 |
First-time Slovakian Olympic crew Ladislav & Peter Skantar posted the fastest clean run in heat 1 ahead of Florence/Hounslow (GBR) and ICF World No.1 crew Klauss/Peche (FRA).
A composed Gauthier Klauss & Matthieu Peche improved enough in the second heat with a clean run to finish 2nd. Beijing Olympic medallists Mikhail Kuznetsov & Dmitry Larionov (RUS) last after heat 1 went clear in heat 2 to take 8th place.
Brazilian crew Correa/Oliveira put in a solid first run for 7th and despite improving by just over 1-second finished 7th in the heats.
Youngest C2M crew, Sasaki/ Sasaki (JPN) who are ranked 36 in the World, found themselves eliminated and do not advance to the semi-final.
K1W – Italy tops both kayak class heats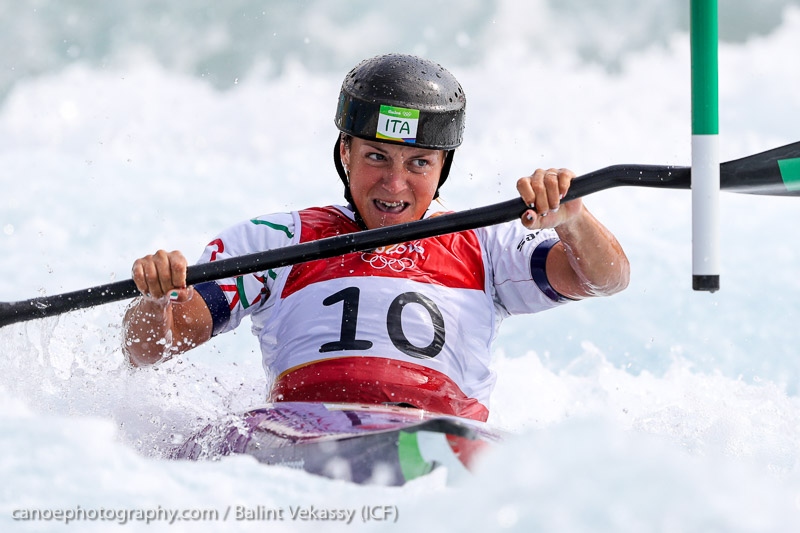 In the K1W heats 15 of the 21 started were set to qualify for Thursday's semi-final.
| | | | |
| --- | --- | --- | --- |
|   | Name | Country | Time |
| 1st | Stefanie Horn | ITA | 99.07 (0) |
| 2nd | Jess Fox | AUS | +0.44 |
| 3rd | Fiona Pennie | GBR | +1.45 |
Twice World Championship silver medallist, Fiona Pennie (GBR) posted the fastest clean run in heat 1 with a touch, ahead of Luuka Jones (NZL) and World Champion Katerina Kudejova (CZE).
In the kayak classes, Italy scored the fastest heats with Stefanie Horn following team-mate Giovanni De Gennaro, who won the K1M heat on Sunday. 
Ana Satila (BRA) suffered immense disappointment going out in the heats. Having incurred a series of touches on her first run, she needed to improve upon her 14th place to qualify for the semi-final as other athletes were also expected to post improved results in heat 2; including Melanie Pfeifer (GER) and Olympic bronze medallist Maialen Chourraut (ESP). Satila was in touch at the split before finding herself offline in the 19-20-21 sequence. She incurred a 50-second penalty. Ironically, she had enough time in hand to have spun out, taken corrective action and still made qualification. It is sad to see this rising star go out early in her home Olympics.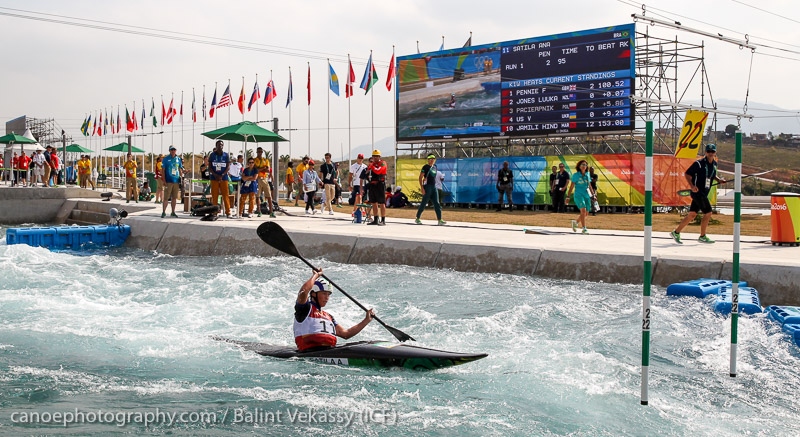 Chourraut qualified with two touches at the end of the heat 2, which pushed France's Marie-Zelia Lafont out of contention. Earlier in the season Lafont had out-qualified reigning Olympic Champion, Emilie Fer before winning her home World Cup race. Here in Deodoro it appeared she never really got into her stride. 
As expected the 22-year-old Jess Fox (AUS) London silver medallist and 2014 World Champion made the semi-final finishing heat 2 in 2nd even accounting for slowing up on the finish line.
This all meant that only 7 of the original 11 nations qualified boats in all four classes to the semi-final; Czech Republic, Great Britain, Germany, Russian Federation, Slovenia, Slovakia and USA.
Day 3 - C1M semi-final & final preview – Tuesday, Aug 9
A very tough course has been set for the semi-finals/ finals. Final demo runs and forerunners will take place tomorrow. With ultra-tight margins, there could be some unexpected upsets even among the World top-ranked paddlers. Heat winner Sideris Tasiadis (GER) will be the last paddler off in the semi-final.
Schedule for the C1M tomorrow
13:30 / 14:09 – Men´s Canoe Single (C1M) – Semi-final
15:16 / 15:48 – Men´s Canoe Single (C1M) – Final
16:05 / 16:12 – C1M Victory Ceremony
Progression for C1M
Paddlers to watch in C1M semi-final
Estanguet (FRA) & Martikan (SVK) have dominated the last 5 Olympics between them. Can Denis Gargaud Chanut (FRA) or Matej Benus (SVK) continue this legacy? Or can Great Britain's David Florence break the French-Slovakia monopoly and go from twice World Champion to Olympic Champion? 
The Olympic medallists competing in Rio are:
Sideris Tasiadis (GER) silver London 2012

David Florence (GBR) silver Beijing 2008
The World Champions competing in Rio are:
David Florence (GBR) – 2013 & 2015

Denis Gargaud Chanut (FRA) – 2011
World Cup series champions
Matej Benus (SVK) 2015 & 2010

David Florence (GBR) - 2009
The C1M class has an exceptional depth of talent. All seven previous Olympians race again in the semi-final; Benjamin Savsek (SLO), David Florence (GBR), Takuya Haneda (JPN), Sideris Tasiadis (GER), Ander Elosegi (ESP), Casey Eichfeld (USA) and Alexsandr Lipatov (RUS).
Keep tuning in
The blog will continue throughout the Olympic canoe slalom race; bringing you race analysis of C1M semi-final and Wednesday's K1M semi-final preview.
In an extra post tomorrow, we will explore the judging decisions in the heats.
Follow the live Olympic canoe slalom race commentary on Twitter @PlanetCanoe or search hashtag #ICFslalom