Most promising paddler award – Jakub Grigar (SVK)
Our award for most promising paddler goes to 19-year-old, Jakub Grigar from Slovakia. "Hands down", said USA Canoe Kayak overnight.
Grigar has been astonishingly quick all season. He won a silver medal at the Seu d'Urgell ICF World Cup race. In the Olympics, he was the fastest at the 2nd split in the Olympic heat, he was the winner of the Olympic semi-final and he was the fastest at the 2nd split in the Olympic final.
Grigar progression through Rio Olympics 
| | | | |
| --- | --- | --- | --- |
|   | Time (sec) | Penalties | Place |
| Heat 1 | 89.16 | clear | 6th |
| Heat 2 | 87.85 | 2-seconds | 4th |
| Semi-final | 88.84 | clear | 1st |
| Final | 89.43 | clear | 5th |
To put this in additional context; the average age of the athletes competing in Deodoro was 25. The average age of the Olympic medallists in Deodoro was 29.
In our Junior & U23 paddlers on the rise post (Aug 2), we described the high correlation between Junior World Champions and future Olympic medallists. Grigar won the ICF Junior World Championships in both 2013 & 2015. This season he won the ICF U23 World Championships in Krakow, Poland.
To add further validity to this nomination, we asked the athletes and coaches as well as a poll through Twitter. Grigar was the dominant choice. 
K1M is the only canoe slalom Olympic class in which Slovakia has not won an Olympic medal. In total, it has won the Olympic title in C1M, K1W & C2M a staggering 8 times. One predicts that this looks set to change. "Grigar has shown that the Slovakian men can use a 2-bladed paddle".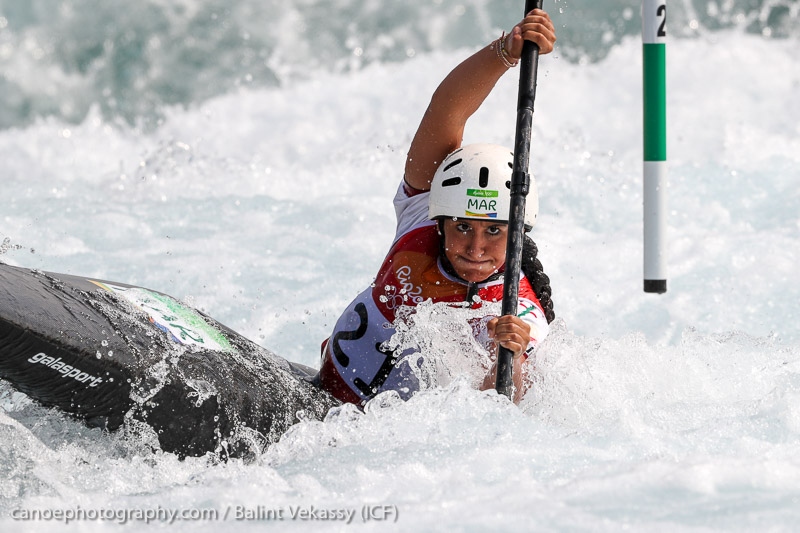 It would be remiss not to make mention of Hind Jamili, the Moroccan 17-year old, who was the youngest competitor in the Olympic canoe slalom field. Jamili lives and trains in Oyonnax, France. Our next post will look at the Deodoro legacy where we will also reflect on the strong results from the Brazilian team.
In London, our most promising paddler award went to Jess Fox (AUS). It proved a sound choice. She won the 2014 World Championships and now is the proud owner of 2 Olympic K1W medals.
A very astute 1992 Olympic Champion, Joe Jacobi (USA), also pointed out a certain Noemie Fox, sitting among the spectators at the X-Park Deodoro Whitewater Stadium. What can we expect from her in the future? It is also worth highlighting that with C1W (Women's Canadian Single) making its anticipated debut in Tokyo, it is a good time to be at the top of that class.
The rate of Grigar's progression towards the very top of the sport, suggests he is the outstanding paddler from 2016 to watch in the year's to come.  
Keep tuning in
We are not quite yet done. Tune in later for our look at the Deodoro legacy.
Continue to follow @PlanetCanoe on Twitter and help use and promote the #ICFslalom hashtag.